BLACKPINK Unveils 'Shut Down' Performance Video…Thrilling Synchronized Moves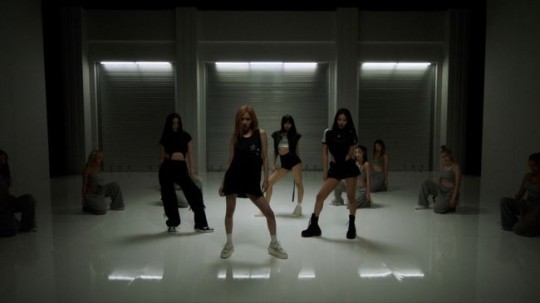 [OSEN=지민경 기자] The dance performance video for BLACKPINK's 2nd full album title-song 'Shut Down' was unveiled on the 19th. Global fans' responses are explosive as the clip almost seemed as if it was for a music show.
In the clip, BLACKPINK appeared in black training outfits, and boasted off their hip yet stylish charms. The set which was decorated with silver shutter was reminiscent of the actual music video, making fans fall into the clip even more.
BLACKPINK overwhelmed viewers with their unrivaled groovy moves and hip swags while pulling off dynamic synchronized moves. The trendy camera walks put the performance to life, and members freely performed the song in their own dancing styles.
The chorus, which is the highlight of the song, immediately stuck to viewer's minds. The shutter lowering dance move, which intuitively reflected the 'Pull down the shutter, lock the door, shut down' lyrics left a strong impact, and made it impossible for viewers to take their eyes off the screen with its addictiveness. The choreography that reflected the lyrics.
The format, which changed with the development of the song, was also something that stood out from the clip. BLACKPINK danced with their dancers in perfect harmony for each scene, making it seem as if they're one. Their detailed techniques and strength balance showed how they earned the title of being the 'performance masters'.
The 'Shut Down' performance which was put together by world-renowed choreographer Kiel Tutin and YGX's Taryn Cheng, Lee Jung, and Kyle Hanagami, is already creating a popularity trend on social media. As it was the first time the full version was unveiled, explosive responses among global fans are expected.
Meanwhile, BLACKPINK is proving their unrivaled presence on global music charts with their 2nd full album 'BORN PINK'. Not only did this album took the first spot on iTune's Album Chart in 54 countries including the U.S. and UK, but also topped Apple Music's Album Chart in 64 countries.
BLACKPINK's title-song 'Shut Down' topped Spotify's Daily Top Song Global Chart the day of its release, which is the world's largest music streaming platform. This is the second time reaching the top spot following 'Pink Venom', and also the first K-POP artist to reach such a feat. All track-songs have also entered the top 30 rank.
The album 'BORN PINK' is also setting new records for a K-POP girl group, by selling 1.01 million copies on the day of its release. Attention is being drawn to their sales records, as it's almost certain that they'll become the first 'double million seller' as a K-POP girl group, as they already surpassed 2 million pre-order copies during their pre-reservation period.
2022. 9. 19.