M/V for BLACKPINK's 'Shut Down' Surpasses 100 million Views…34th Clip to Reach 100 million Views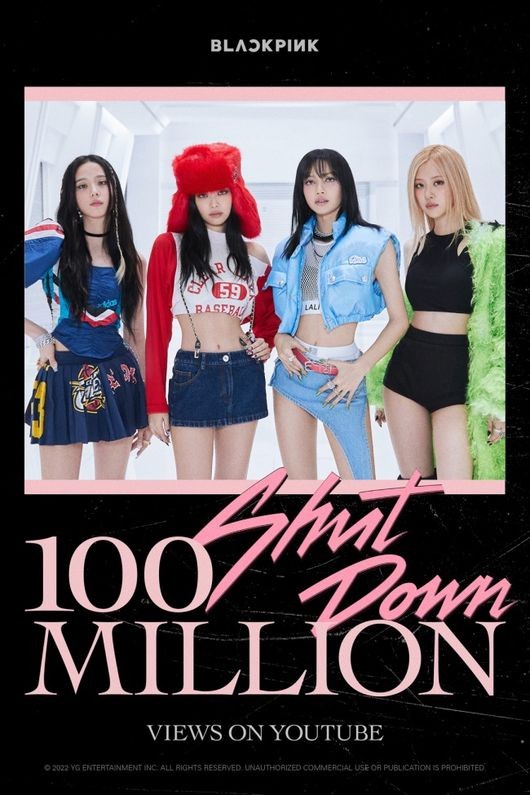 [OSEN=선미경 기자] The M/V for group BLACKPINK's second full album title-track 'Shut Down' reached 00 million views on YouTube.
According to YG Entertainment on the 21st, the M/V for BLACKPINK's 'Shut Down exceeded 100 million views on YouTube as of 4:49PM that day. This feat comes in about 5 days and 3 hours since it was released at 1PM on the 16th, and it is BLACKPINK's 34th video to reach more than 100 million views.
Shut Down is a hip hop song that sampled Paganini's 'La Campanella'. The sharp violin performance coming from the original song was combined with a heavy beat, providing listeners with a thrill they've never experienced before. On top of this, members' solid vocals and dynamic rapping intensified the mysterious atmosphere and charms of the song.
YG invested the highest production cost into the group's music video, and the overwhelming scale of the set and colorful visuals made viewers addicted to the clip. The M/V paid homage to parts from the group's previous music video, showing how confident they are with their successful music career.
The dance performance video for 'Shut Down' is showing just as much popularity as the M/V. With the enthusiastic response of global fans, it surpassed 10 million views in just half a day since its release, and on the 20th, it beat the official music video and topped the list of 'The Most Viewed Video in 24 hours on YouTube'. That is why some is predicting that the choreography video will surpass the views of the official music video, just like the case of 'How You Like That'.
With two new popular contents on its channel, the number of subscribers to BLACKPINK's official YouTube channel is also increasing steeply. In fact, the number of subscribers increased by nearly 1.6 million before and after the release of their 2nd full album on September 16th. It now has more than 81.6 million subscribers.
BLACKPINK's 2nd full album 'BORN PINK' topped the iTunes album chart in 60 countries, including the United States and the UK, and 64 countries on the Apple Music's Album Chart. The title-track 'Shut Down' topped Spotify's Daily Top Song global chart for four consecutive days.
2022. 9. 22.