'D-1 To Comeback' BLACKPINK "Full Ready For Comeback"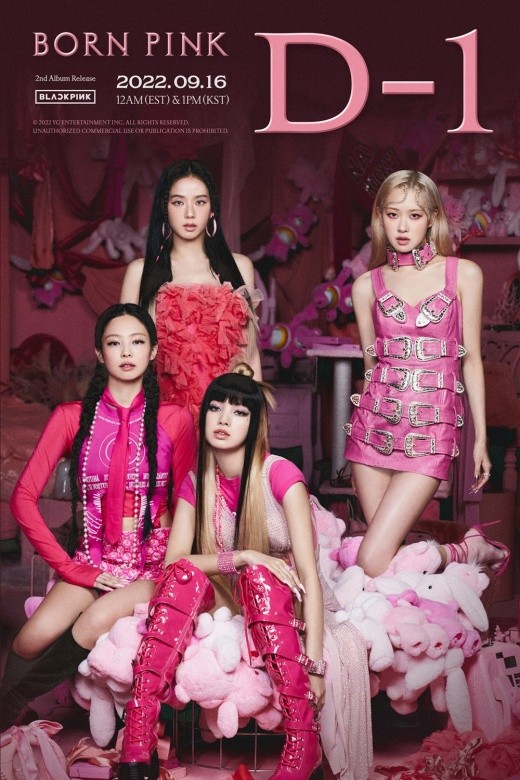 [마이데일리=박윤진 기자] With only one day left until their comeback, girl-group BLACKPINK released questions and answers about some of the main points of their new album through their agency YG Entertainment on the 15th.
BLACKPINK is set to release their 2nd full album 'BORN PINK' at 1PM on the 16th. The album contains a total of eight songs that portrays the group's unique identity, and includes their title song 'Shut Down', 'Pink Venom', 'Typa Girl', 'Yeah Yeah Yeah', 'Hard to Love', 'The Happiest Girl', 'Tally', and 'Ready For Love'.
Their determination for the album in particular was strong, as it's  their first full-fledged comeback in about two years. The members said, "We're really excited to share BLACKPINK's unique identity with BORN PINK. Through this album, we'll show how our unique charms and power have been upgraded even more".
▲ The following is questions and answers exchanged with BLACKPINK.
Q. It's the group's 2nd full album. How do you feel with the album soon to be released?
JISOO: I'm very excited and nervous because it's an album we've been working on for a long time. We've received a lot of love and many enjoyed our pre-release single 'Pink Venom', so we had a lot of fun  while doing our promotion activities. Thanks to the enthusiastic response we received, I think we're making a full comeback with great excitement. More than anything, we really wanted to pay back the love we received from our fans, so I'm really curious about how our fans will feel about it. I think that will be the first think I'll be looking up after the comeback.
Q. How was the process of working on your second full-length album?
JENNIE: As always, working with members was really fun.  From the beginning of the concept meeting to the last minute of recording, new ideas kept pouring in. We were able to really bring out something deep ithin ourself by looking into each other's thoughts and emotions. We gave each other feedback, and during the process, I once again realized the four of us shine the most when we're together. More than anything, working with YG producers that know us well made us very comfortable and it was really fun. I am very satisfied because the album is full of musical works that were completed through great synergy.
Q. What was your first impression of the title song, 'Shut Down'?
LISA: We first listened to the demo in the recording studio all together. When the song started, we all didn't say anything and just looked at each other. I think all our eyes were saying "This is the title song!" (smile) I naturally imagined the performance while listening to it. I was very sure that this was the song that really showed BLACKPINK as a group, and also a song that BLACKPINK can express well.
Q. Please introduce the title song, 'Shut Down'.
JENNIE: 'Shut Down' is a song that takes the charisma that BLACKPINK has consistently shown to the next level. The combination of classical and trendy hip-hop beats is impressive, new, and addictive. There are some fun elements to the song such as witty lyrics or point choreography that directly expresses 'Shut Down'. I hope everyone can feel the same emotions and thrill that we felt when we first heard the song.
Q. What should viewers pay attention to when watching the M/V of the title-song 'Shut Down'?
JISOO: The set reminiscent of the phrase' Shut Down', hip props, and overall intense styling went well with the music. If you look closely at the music video, BLACKPINK's existing hits are hidden everywhere. You'll be able to see us acting with a free vibe within the set, so please look forward to it.
Q. It's your 2nd full album. What are some of the things you did differently and what did you focus on the most compared to your 1st full album 'THE ALBUM'?
ROSÉ: If 'THE ALBUM' focused solely on our 'Music', this album tried to express the essence of BLACKPINK, just like our album title 'BORN PINK'. We kept trying to do different things while maintaining the original identity BLACKPINK has. We focused on expressing BLACKPINK's clear colors by putting together different genres together which are based on hip-hop and giving variations to the sound. We're very confident that we've created music that people haven't heard before with our imagination. We were very confient throughout the album-making process this time around, and we're perfectly ready for our comeback.
Q. From a pre-release single, full album, to a world tour. You guys must be really busy these days. Can you give a slight spoiler for fans that are eager to see BLACKPINK's performance?
ROSÉ: We're really busy but it's also very rewarding. When we see our fans being hppy every time we release something, I feel energized, and I also feel like we receive energy from them. There are a lot of stages that will be revealed for the first time during this concert. The members and staff are all working hard to prepare for the world tour, since it's been a long time since we held one. 'BLINK! See you soon!" I miss you!'
LISA: I can't believe we're finally holding a world-tour. I'm getting excited day by day just by the thought of meeting BLINKS from all over the world. There are a lot of changes since we're very eager to show everyone a lot of things. I can't disclose anything right now, but I hope BLINKS can come and see for themselves all the things that we've prepared in terms of performances. 'BLINKS! Please listen to our full album before that, and make sure to memorize the lyrics before you come!' (smile)
2022. 9. 15.