WINNER's MINO in 'Access Showbiz Tonight – Hanbam'… "Panic Disorder Due to Responsibility, Overcame by Painting·Composing,"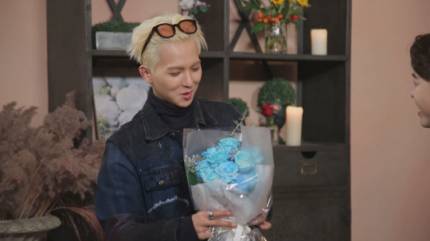 [스포츠조선=김영록 기자] A street date with WINNER's MINO, who we all wish to walk the flower road, will air through Access Showbiz Tonight – Hanbam (abbreviated as Hanbam), today at 8:55 PM. MINO who's currently popular as a rapper and an entertainer appeared in Hongdae, walking the flower road prepared by Hanbam.
Although it has only been a day since the song 'FIANCÉ' was released, hundreds of people gathered as they prove the current popularity of 'FIANCÉ'. Some girls holding slogans of MINO surprised the people around them by exactly following the choreography for 'FIANCÉ'. MINO who restrained himself from eating ddukbokki for the album although he enjoys the food, ate the dish like a horse(?) during the street date with Hanbam.
On the exclusive interview with Hanbam that went on in a different space, Hanbam presented a special gift for MINO. They were 'blue roses'. It is known that MINO has special affections on blue roses through social media, and we'll figure out why. MINO also made the female staff members of Hanbam smile with his rap, aegyo, and dance. It is said that MINO made a fan-making video with his aegyo that will even capture the hearts of people who are not familiar with MINO.
Meanwhile, MINO revealed that he had panic disorder due to his responsibility and many thoughts despite having a good environment. His ways of overcoming the disorder were his talents. MINO who enjoys painting in his daily life overcame panic disorder by working on songs and painting pictures. 
MINO's charismatic performances and sincere yet cute interview will be available through SBS 'Access Showbiz Tonight – Hanbam' tonight at 8:55 PM.  
2018. 12. 4.