BLACKPINK Performs 'Shut Down' For the First Time at U.S. 'Jimmy Kimmel Live!'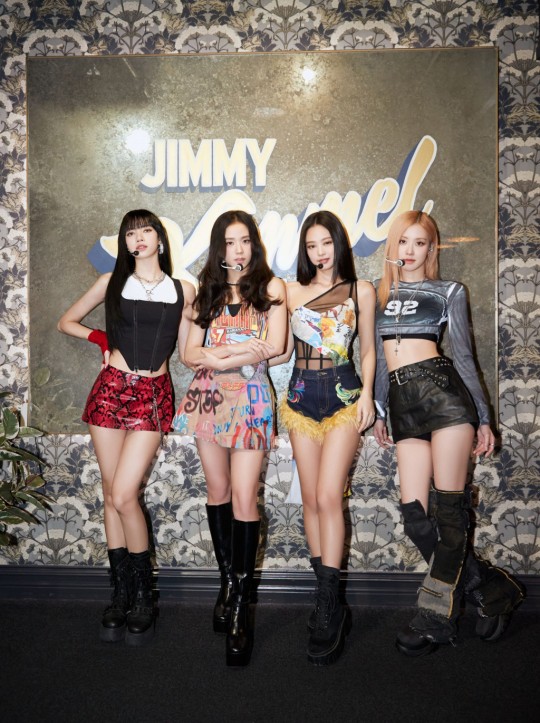 [스타뉴스=김노을 기자] Group BLACKPINK took over the stage of 'Jimmy Kimmel Live!'.
BLACKPINK put on a live performance for the first time for 'Shut Down' at 'Jimmy Kimmel Live', an ABC late night show, on the 19th local time.
With sharp violin sounds and their signature sound 'Blackpink In Your Area' playing in the background, BLACKPINK appeared with unrivaled charisma, taking over the hearts of global fans.
BLACKPINK put on a dynamic performance by adding trendy point choreography and showing classic wave moves. They re-interpreted the sounds of classic and hip-hop with their choreography that was full of characteristics.
The choreography which interpreted the lyrics of 'Shut Down' in a direct way was also fun to watch. Everyone posed as if they were taking a selfie for LISA's 'I'll smile for ya' part, and they danced as if they were turning a handle for the 'vroom vroom vroom' part, which is the part where the highlight of the song begins.
The group showed stable live skills despite intense dance moves. Member's rapping full of characteristics and trendy voice tones created perfect harmony with Shut Down's addictive melody, providing viewers and audiences with a thrill.
After successfully take the stage of 'Jimmy Kimmel Live!', BLACKPINK will be carrying out various U.S. radio schedules in the States. They plan on taking a step closer to local fans through various programs.
Meanwhile, BLACKPINK's 2nd full album 'BORN PINK' took the first spot on iTune's Album Chart in 55 countries, including the United States and the United Kingdom, and also topped the Apple Music album chart in 64 countries. It's been maintaining the top spot on music platform Spotify's Daily Top Song Global Chart for 3 consecutive days since its release.
2022. 9. 21.