YG TREASURE's Brilliant 1-Year Debut Anniversary… Expect Their Comeback in the Second Half of 2021!!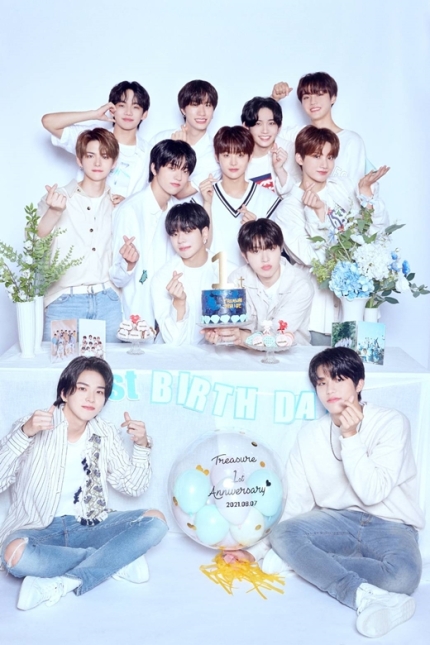 [마이데일리=이승길 기자] YG's rookie group TREASURE will make a new challenge on the second half of 2021, to make a bigger leap.
TREASURE has celebrated their 1-year debut anniversary on the 7th. While releasing 4 albums of [THE FIRST STEP] series, it took them an average of 53 days to prepare their comeback. TREASURE hit the year like a storm, which is rare among artists of YG.
The monster rookies were strong, ready, and prepared. TREASURE has sold over 1M copies of their albums, and their activities for the past year has become one of the driving forces which began the 4th generation idol era, as well as raising the status of K-Pop in the world.
# Strong fandom… Popular Not Only in Korea·Japan, But Also in the US
The support from the global fans took a big role in TREASURE's fast growth. According to Whosfan, the global K-Pop fandom platform, 26% of TREASURE's total album sales took place in Korea and Japan respectively, 20% in Southeast Asian countries, 15% in China, 8% in Europe, and 3% in Northern America. The statistics prove TREASURE's popularity spread throughout the world after establishing their foundation in Asia.
In the core fan region rankings, which indicates the locations where fans who have approved to have over 10 album copies of TREASURE, the US, the country with the biggest Pop market in the world, was ranked at no.2 following Thailand, which grabbed the people's attention. TREASURE has also topped 5 major weekly albums charts in Japan including Oricon·Line Music·Billboard. This is why the people are expecting that TREASURE will be on a steep rising slope after the pandemic has gone away and can begin their full-scale global promotional activities.
# A Strong Connection with the MZ Generation… Fast Growth in Popularity
TREASURE has a strong connection with the MZ generation, who are rising up to become the main customers of cultural contents. Objective statistics originating from online platforms prove this fact. TREASURE was ranked at no. 5 on Twitter's 'The Most Mentioned K-Pop Artist in the World'(July 2020~June 20201), which is the highest ranking among all K-Pop rookie groups.
Their YouTube channel has 4.24M subscribers, which is the biggest figure among all K-Pop groups that have made debut last year. Their videos are heading towards 900M accumulated views. They've achieved these milestones by continuously communicating with the MZ generation through reality contents such as '3 Minute TREASURE', 'T.M.I', 'TREASURE MAP', and 'TREASURE STUDIO'.
The connection built between TREASURE and the global fans are starting to pay off. The 'TRUZ' character related products released by TREASURE and Line Friends were short on supply due to high demand, while the group has also made positive synergy effects with the Metaverse platform. They also joined Weverse, the fan community app, as well as presenting 'TREASURE Island' in Nintendo Switch 'Animal Crossings', which brought out favorable reviews.
# Proven Talent, Charms Yet to be Revealed
What's the most important is that the group has proved their talents as artists and their musical capabilities. TREASURE has consistently participated in the writing·composing of their own songs, proving that they can self-produce their own songs. Their broad-spectrum putting rap and singing together, and their charismatic group dances have created numerous legendary performances.
They've made 'fast comebacks' every time, but they've showed that they can pull off various concepts by revealing their hidden charms one by one. They've been freewheeling and hip, fresh, and even showed off their boyish charms. However, they've only shown variations under the same theme, and that the concepts they will present in the future are beyond expectations, according to YG.
TREASURE has recently finished the 'TREASURE MAP' season 2 series, before starting the second half of 2021. It seems that they've began preparing to make comeback and pursue on full-scale activities. TREASURE has also shared their sincerities through their fan song 'EVERYDAY', that they will 'always stay beside the fans'.
TREASURE stated, "We thank TREASURE MAKER who have stayed with us throughout our journey. We'll come back with better songs and our better selves. Please stay healthy until then" and promised, "We'll see you soon".
2021. 8. 8.