'24/365', BLACKPINK Transforms into Speed Racers… JENNIE at No. 1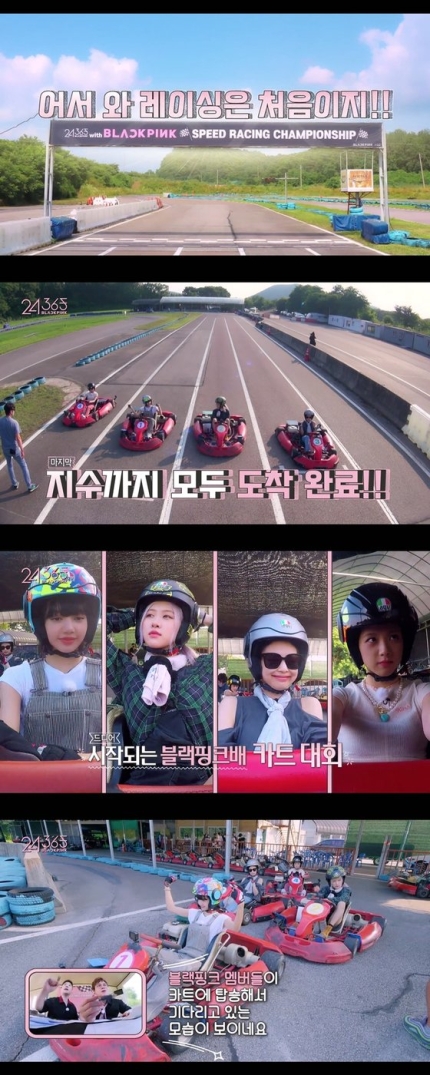 [일간스포츠=박정선 기자] BLACKPINK enjoyed the pleasure of speed racing through a cart championship held under strict safety education and rules.
On August 15 at 9 AM, YG Entertainment uploaded episode 7 of BLACKPINK's reality show, '24/365 with BLACKPINK' through their official blog and BLACKPINK's YouTube channel.
BLACKPINK held the '1st BLACKPINK Cart Championship 2020'. After receiving safety education, the members wore protective gear. The members then got on the carts and began their drive test. JISOO and LISA looked nervous, but ROSÉ and JENNIE were full of confidence.
The members competed each other although it was a drive test, making the viewers laugh. LISA began with a lead, but ROSÉ and JENNIE passed her in an instant. JENNIE drove fast while presenting a bold race. ROSÉ fell in the grass while on a curve road, while JISOO enjoyed a safe ride in peace.
The individual lap time game began. The first runner was LISA. She began with force. After perfectly adapting to the race, LISA drove safely in curves, inbound course, and difficult sharp curve roads, passing the final point in 2 minutes and 9 seconds.
The second runner was ROSÉ, known to be an extreme sports mania. She pushed the pedal to the metal but slowed down on curved roads, presenting her skills through gentle cornering. ROSÉ passed the final spot in 1 minute and 48 seconds, 21 seconds faster than LISA's record.
JENNIE then began her race without hesitation. She passed the sharp curve cleanly, establishing herself as a cart genius. The broadcasting team were put in awe by her fabulous driving skills, regardless of the types of courses. She entered the acceleration area and passed the finish line easily, which surprised everyone. Her final record was 1 minute and 36 seconds. She won 1st place.
JISOO, the final runner, presented an unexpected race. After appearing in a lively mood while dancing as a warmup, she presented a stable race as well as driving at a faster speed compared to how she drove during practice, passing the finish line in 1 minute and 42 seconds. Her record was 2nd among all members.
Meanwhile, BLACKPINK will make comeback on the 28th with their collaborative single with Pop star Selena Gomez. They will release their official debut album on October 2, in 4 years since they've made debut.
2020. 8. 15.