BLACKPINK ROSÉ to Release Her First Solo Album on March 12
[한경닷컴=김수영 기자] ROSÉ of group BLACKPINK will release her first solo album on March 12.
On March 2, YG Entertainment uploaded 2 versions of ROSÉ's solo album teaser poster.
While the numbers '2021.03.12' clearly marked indicated the album released date, the contrasting atmospheres of the two posters grabbed the viewers' attention.
ROSÉ presented dreamlike and alluring aura in the delicate purple image. Meanwhile, ROSÉ's silhouette image wearing a red dress with flames rising from a car explosion presented fierceness, raising curiosities on the concept of her upcoming album.
ROSÉ has preciously presented her performance of 'GONE', the sub-title track of her upcoming solo album, through BLACKPINK's livestream concert 'THE SHOW(YG PALM STAGE – 2021 BLACKPINK: THE SHOW)' held back in January 31.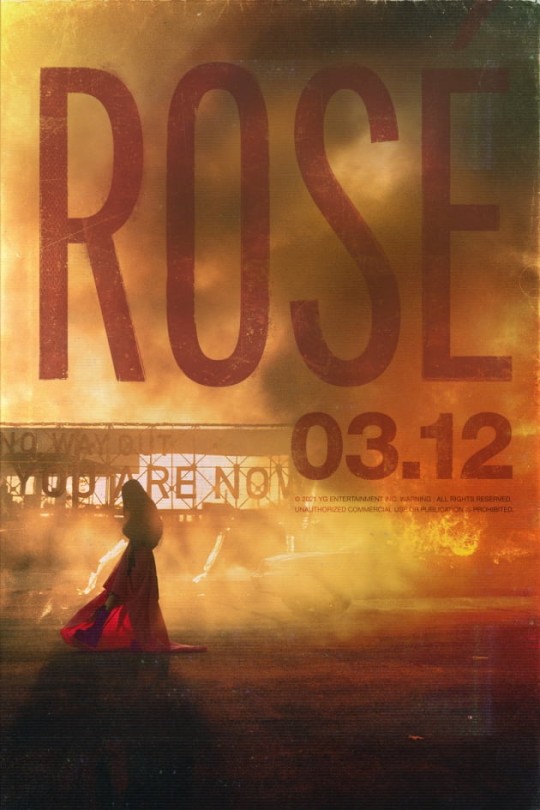 The 'ROSÉ – COMING SOON TEASER' video is about to surpass 50M views. Despite being a short 33-second clip, the view counts are unprecedentedly high. It shows BLACKPINK's global influence as the most subscribed female artists in the world on YouTube with over 57.8M subscribers, and the music fans' high anticipations on ROSÉ's upcoming solo album.
YG has previously revealed, "The MV shooting for ROSÉ's solo album title track has completed" and raised the people's expectations by adding, "Since it is a masterpiece created with enormous amounts of production costs, we are doing our best on post production to raise its level of completion".
2021. 3. 2.