BIGBANG's G-DRAGON Says, "Three regular albums in eight years. It's lame."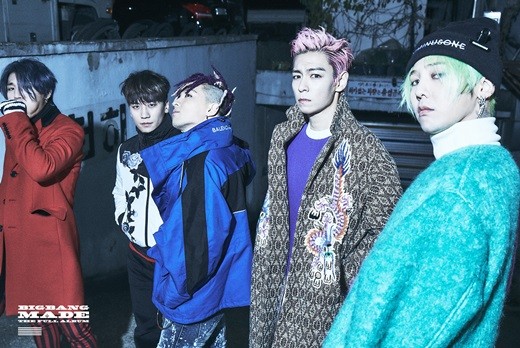 [마이데일리=최지예 기자] BIGBANG (G-DRAGON, T.O.P, TAEYANG, DAESUNG, and SEUNGRI) criticized themselves by saying, "Three regular albums in eight years. It's lame."
Upon the release of its third regular album "MADE THE FULL ALBUM" on December 13, BIGBANG was interviewed at the YG Building in Hapjung-dong, Seoul. 
About releasing three regular albums over eight years, G-DRAGON said, "I think it's lame too. But it wasn't because we're lazy during the eight years. We all released solo albums and put out singles or mini albums. We've never been on a break. I think it is fate that the album was released now. Personally, I believe in working on and on until everyone is satisfied with the music. That's why the album was released now." 
The long-awaited album has two very different title tracks: "FXXK IT" and "LAST DANCE". "FXXK IT" is about a man who falls in love with a woman at first sight. It shows off the tongue-in-cheek side of BIGBANG. The song also boasts members' sensual vocals and raps on top of trendy sounds. 
"LAST DANCE" is about how members feel upon their 10th anniversary. They have come so far and they sing, "I will do this last dance with you to this song". All the members sing, and they sound as if they are making a confession. The soft drum and piano sounds accentuate the members' voices. When you listen to the song, it becomes clear why each part is sung by a different member. 
2016. 12. 13.