TREASURE To Make a Comeback on October 4th…To Also Hold Seoul Concert in November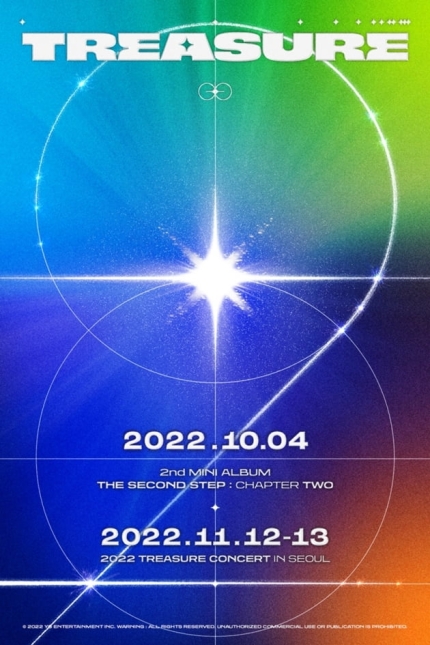 [한국경제=김수영 기자] Group TREASURE is set to make a comeback on October 4th.
YG Entertainment said on the 4th that "TREASURE will make a comeback on October 4th with 'THE SECOND STEP : CHAPTER TWO'. They will also hold a concert in Seoul on November 12th and 13th". –
YG also said the group decided on the title-song early on and put a lot of effort into each and every track song for a fair while.
The poster showed a jewel with lights spreading all over the place, signaling TREASURE's vast musical spectrum.
Regarding the concert, YG said, "Not only will they perform new songs, but the set-list has much more variety than before. TREASURE members were very determined to interact with fans more. This is all thanks to fans that showed enthusiastic responses during the first concert".
TREASURE, which debuted on August 7th 2020, is a rookie group YG presented in 4 years since BLACKPINK. The group swept Rookie of the Year awards that year with their musical abilities, producing skills, and friendly characteristics.
Meanwhile, TREASURE's first mini-album which was released in February surpassed 800,000 copies in sales, and when putting together all 3 single albums and first full album figures, their cumulative album sales reach 2 million copies. Attention is now being drawn to whether TREASURE will join the million-seller list with their comeback this time around.
2022. 9. 1.