TREASURE To Make a Comeback on October 4th…From Seoul Concert to Japanese Tour…JIKJIN RIGHT AWAY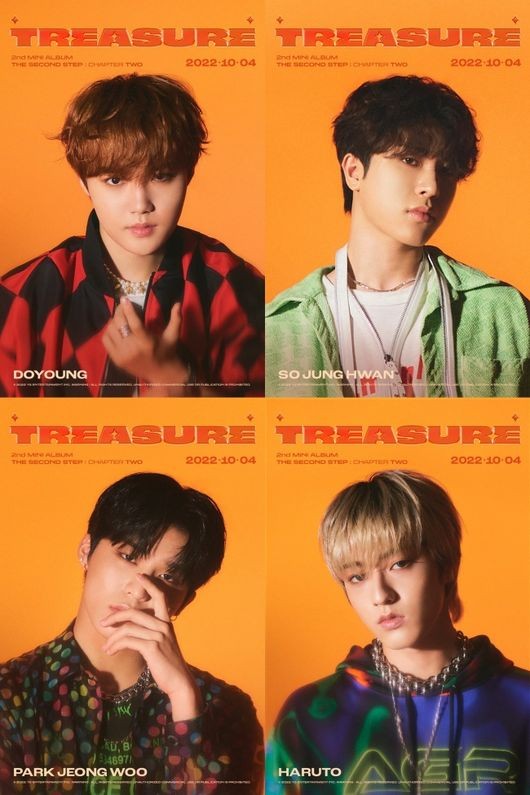 [OSEN=선미경 기자] Visual concept posters for all TREASURE members have been unveiled ahead of their comeback.
On the 22nd, YG Entertainment put up individual concept photos for TREASURE members DOYOUNG, PARK JEONG WOO, SO JUNG HWAN, and HARUTO. As a result, all members' concept photos have been unveiled as JIHOON·CHOI HYUN SUK·YOSHI·ASAHI·JUNKYU·YOON JAE HYUK's photos were previously released.
DOYOUNG put on a chic face, boasting off his unrivaled aura, and HARUTO gave off a mysterious and relaxing vibe with his face slightly tilted. PARK JEONG WOO showed off a trendy pose, and SO JUNG HWAN wore a light-green shirt and showed off his dandy visuals, making fans' heart beat fast.
Responses show that all the images released so far show how matured all members have become. Attention is now being drawn to what kind of images the boys will show through their next activity, as they've always upgraded their visuals and pulled off new concepts every time they released something new.
Meanwhile, TREASURE will be releasing their 2nd mini-album 'THE SECOND STEP : CHAPTER TWO' on the 4th of October. Expectations are running high from music fans as they had decided on their title-song early on and worked hard on their album. The group previously said that "Members took part in the album much more this time". That's why attention is being drawn to what kind of growth they went through.
Riding on this trend, TREASURE will hold a concert in Seoul on the 12th and 13th of November at Seoul Olympic Park KSPO dome, and they'll also hold an arena tour starting with Hokkaido Prefectural Sports Center on November 26th.
2022. 9. 22.