iKON to Make Group Comeback in 1 Year… COMING SOON Poster Revealed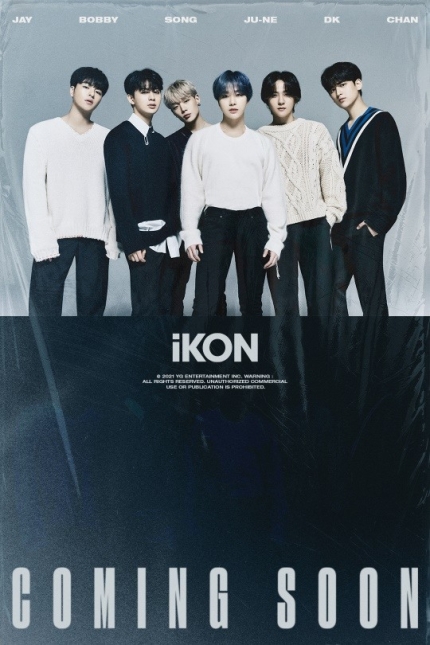 [헤럴드POP=정혜연 기자] iKON will make return in approximately a year. YG Entertainment revealed the group's COMING SOON poster on the 15th, officially announcing the group's upcoming comeback.
iKON's COMING SOON poster showed the 6 members staring at the camera with their calm and matured looks. Detailed information on the release date and album format have not yet been revealed, but the global fans are already anticipating the group's upcoming comeback.
iKON has previously gathered the public's attention with the news regarding their MV shooting. Considering that the MV shooting is the final process before releasing new material, the news made the people realize that the group will soon make comeback.
After regrouping as a 6-member group, iKON has established the group's new direction through their third mini album 'i DECIDE' released last year on February. The album topped iTunes charts in 24 different countries, including Japan. The album was also placed on the top ranks of major Chinese music platforms, proving the group's unchanged global popularity.
BOBBY's second official solo album 'LUCKY MAN' has also recently topped numerous global music charts, while receiving favorable reviews. However, he put a halt on his solo promotion activities to focus on iKON's group comeback, which revealed his strong determination.
After making debut back in 2015, iKON released numerous hits including 'MY TYPE', 'LOVE SCENARIO', and 'KILLING ME'. DK presented a song written by himself for the first time through their third mini album, which showed his clear emotional character. BOBBY also showed off his broadened musical spectrum by participating in writing the lyrics of 3 songs. The people are looking forward to what kind of changes and challenges iKON will make, as they have continuously made new challenges and have shown growth.
Meanwhile, iKON has confirmed their appearance on Mnet's boy group survival program 'Kingdom', scheduled to premiere on April 1, which is raising the attention of music fans.
2021. 2. 15.