CHOI HYUN SUK·JIHOON·YOSHI·JUNKYU of YG TREASURE Presents Fiery Eyes+Dark Charisma.. 'MMM' Individual Posters Revealed
[OSEN=김은애 기자] YG's rookie group TREASURE revealed individual member posters with 4 days left until their comeback. The people are looking forward to not only TREASURE's music but also their transformed visual concepts.
On November 2, YG Entertainment uploaded individual member posters for CHOI HYUN SUK, JIHOON, YOSHI, and JUNKYU through their official blog.
The members emitted dark charisma with their fiery eyes while wearing black tone outfits. They showed a completely different mood from the freshness they've presented through 'THE FIRST STEP' chapters 1 and 2.
TREASURE will release their third single album 'THE FIRST STEP : CHAPTER THREE' with the title song 'MMM' on November 6. The global fans are anticipating and supporting their upcoming release due to the fact that TREASURE will be presenting a Hip-hop song, which is one of YG's biggest strengths, in 3 months after they've made debut.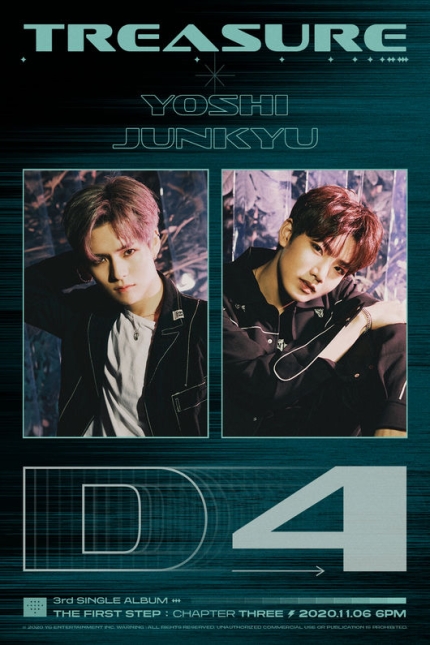 TREASURE raised the fans' curiosities with unprecedented promotion methods. TREASURE began releasing individual posters and the 'MMM' dance performance teasers every midnight starting today(2nd) until the 6th. A total of 5 clips consisted of 18 seconds will be uploaded every day for the fans.
Since a minute and 30 seconds of the song, which is approximately half the song, will be revealed prior to the release of their new song, the people are paying keen attention. Meanwhile, TREASURE grabbed the eyes and ears of many people with the sensuous Hip-hop instrumental and their swag in just 18 seconds today.
After making debut on August 7, TREASURE has been expanding their influence in the global music market under YG's fast·concentrated strategy. The 2 single albums they've released have sold almost 500 thousand copies, while songs 'BOY' and 'I LOVE YOU' were ranked at the top of various global charts in Japan and China.
Members CHOI HYUN SUK, YOSHI, and HARUTO were credited as lyricists on 3 consecutive single albums, while ASAHI was credited not only as a lyricist, but also as a composer for the first time as a member of TREASURE. The people are looking forward to the new aspects and musical growth TREASURE will present, since their upcoming album has the highest degree of member participation.
2020. 11. 2.