BLACKPINK at No. 2 on UK's Official Albums Chart… First·Best Record in K-Pop Girl Group History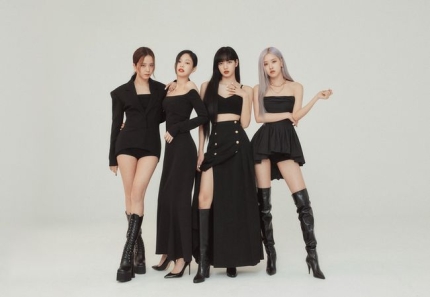 [OSEN=심언경 기자] BLACKPINK set the best K-Pop girl group record on the UK Official Albums chart. It is a milestone set on one of the two biggest Pop charts along with US Billboard.
According to UK's Official Charts announced on the 9th(local time), BLACKPINK's official debut album 'THE ALBUM', released on the 2nd, was placed at no. 2.
Forbes, the US economy magazine wrote, "BLACKPINK's no. 2(on the UK Official Albums chart), being on the top 10, is the best record in K-Pop girl group history" and added, "No other K-Pop girl group has gotten even near them. BLACKPINK set the best Asian female artist record when they were ranked at no. 40 last year with 'Kill This Love'. BLACKPINK has renewed their own record through 'THE ALBUM'".
Since all songs from the album are receiving positive reviews, their results on digital charts also left meaningful footprints, proving that BLACKPINK has established themselves as a global Top girl group.
The title song 'Lovesick Girls' from 'THE ALBUM' entered the Official Singles Top 100 chart as no. 40. Furthermore, songs 'Bet You Wanna(Feat. Cardi B)' and 'Ice Cream' were ranked at no. 62 and no. 80, allowing them to have 3 songs on the UK Official Singles Chart Top 100 at the same time.
As a result, BLACKPINK set the record of entering UK's Official charts four consecutive times this year, starting from the song 'Sour Candy' with Lady Gaga to 'How You Like That', 'Ice Cream', and 'Lovesick Girls'.
While receiving the global music fans' attention, BLACKPINK will appear on MBC 'Show! Music Core' today(10th) at 3:40 PM and perform their title track 'Lovesick Girls' and 'Pretty Savage'.
If 'Lovesick Girls' is a song with emotional melodies that go well with autumn, 'Pretty Savage' presents BLACKPINK's girl crush charms. Since the two songs have competed to become the title track until the end and have received favorable reviews by music critics, the fans are expected to show heated support.
'Lovesick Girls' was ranked at no. 1 on the Downloads category for the 40th week of 2020(9/27~10/3) announced by Gaon Charts, which is the representative chart in Korea, in a day and a half since its release. Furthermore, 'THE ALBUM' reached over 600 thousand sales(Accumulated by Hanteo Chart) after its release on the 6th, setting the biggest initial sales record in K-Pop girl group history.
Although the album sales will not be accumulated for this week's 'Show! Music Core', their music, video, radio broadcast, viewer committee points are expected to make the group no. 1 on their first week comeback.
BLACKPINK released all songs of their official debut album, 'THE ALBUM', on the 2nd at 12 AM US EST, 1 PM KST. Since music broadcasts were on break due to the special program airing during the Chuseok holidays, BLACKPINK will present their first performance this week.
'Lovesick Girls' is a song composed of country sounding guitar riffs with lyrical melody and BLACKPINK's powerful vocals added on top. JISOO and JENNIE were credited as composers and writers of the song, and the song is loved with its fundamental question of why people get hurt and wounded by love and yet go out looking for another, along with its hopeful message.
'Pretty Savage' is a song with a minimal trap beat with simple yet catchy and powerful rap verses on top, along with an impressive drop part. BLACKPINK's unique charisma, pretty but that's not all, stand out throughout the track. It is the best song from 'THE ALBUM' selected by critics of US Billboard and received attention from Rolling Stone as the "Hottest open track since Ariana Grande's 'Thank You, Next'".
2020. 10. 11.