BIGBANG's SEUNGRI Fascinates Manila with Enlistment Coming Up… 'Sandara Park's Guest Appearance'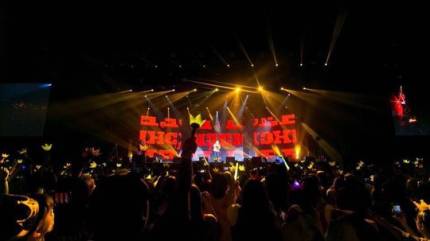 [뉴스엔=황혜진 기자] BIGBANG's SEUNGRI presented an unforgettable performance in Manila, the second city of his first-ever solo tour.
On January 19, SEUNGRI held the 'THE GREAT SEUNGRI TOUR 2019 ~THE SEUNGRI SHOW~' in 'SM MALL OF ASIA ARENA', located in Manila, Philippines.
After opening the concert with BIGBANG's mega-hit 'BANG BANG BANG' and his solo track 'LET'S TALK ABOUT LOVE', SEUNGRI decorated the stage with glamorous performances with the heated responses by the fans.
Sandara Park from YG Entertainment appeared as a special guest in Manila, following his first concert of his tour in Hong Kong. SEUNGRI prepared a special duet performance of ligo Pascual's 'Dahil Sa'yo' with the idea of Sandara Park for the concert and stated, "I'm singing a song from Philippines for the first time. I hope you enjoy it".
Furthermore, Ryan Bang, the famous Filipino comedian and MC, and Anne Curtis, actress and artist, visited the concert and got on stage, showing their friendship with SEUNGRI.
SEUNGRI continued by performing '1, 2, 3!', the song that portrays the character of 'SEUNGRI' very well, along with 'STRONG BABY' that has both sexy and masculine charms.
In the end, SEUNGRI revealed his feelings on his concert by stating, "I have to take a flight tonight, but your cheers are amazing, so I wish I could delay my flight schedule and sing more".
SEUNGRI is going through his last solo tour prior to his enlistment this year. He will perform in Tokyo on the 26th, following his concert in Manila. The amazing performances and joyful talks which only SEUNGRI can pull off as a solo artist will capture the hearts of global fans.
In addition, SEUNGRI will also hold his final concert prior to enlistment Seoul titled, 'SEUNGRI 1st SOLO TOUR [THE GREAT SEUNGRI] FINAL IN SEOUL', on February 16th and 17th to meet his fans in.
2019. 1. 20.