'YG Treasure Box', From 'K-Pop' KIM JONG SEOB to Rap·Vocal Genius… Youngest Treasures from Group C Revealed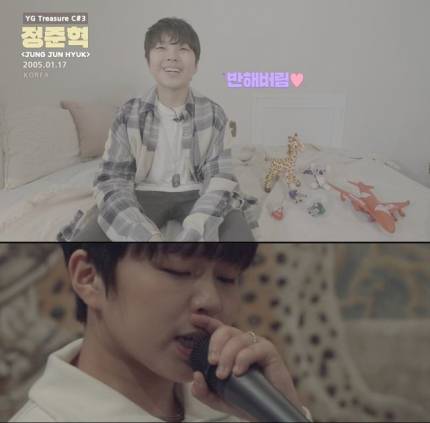 [OSEN=김은애 기자]  The treasures from group C for 'YG Treasure Box' who have excellent skills despite their young age were revealed to the public for the first time. 
Today (7th) at 11 AM, YG Entertainment revealed 7 trainees of the total 29 trainees participating in 'YG Treasure Box' through their official blog (www.yg-life.com), VLIVE, and YouTube. 
Group C that follows groups A and B are composed of trainees from ages 14~15, which is the youngest among all trainees of YG. Despite their young ages, talented individuals with acknowledged potential within the agency are lined up in group C. The group captivated the viewers' eyes and ears with their excellent vocals, rap, and dances that were on par with group A and B, composed of comparatively older trainees.
PARK JEONG WOO and JUNG JUN HYUK who are distinguished for their rap and vocals respectively, are part of group C. They proved their dominant skills through the performance clips. Also, KIM JONG SEOB from 'K-Pop Star 6' performed his rap and dance sequentially, captivating the viewers' eyes and ears in an instant. 
YG Entertainment is receiving the public's attention by announcing to reveal all 29 trainees of 'YG Treasure Box' from the 5th until tomorrow, for a period of 4 days.
After all treasures of 'YG Treasure Box' have been revealed, the first episode of 'YG Treasure Box' will premiere on the 16th. 
YG Treasure C#1 PARK JEONG WOO
15-year old PARK JEONG WOO stated, "I took the audition in 2 days since I joined an academy and got in" and revealed his satisfaction by stating, "YG provides good meals and a good environment to practice". He chose his powerful high notes as his strength and added, "I'll do my best to move the people's hearts". 
On the following performance clip, PARK JEONG WOO performed Bruno Mars' 'When I Was Your Man' in his own soulful voice, surprising the viewers.
YG Treasure C#2 LEE IN HONG
15-year old LEE IN HONG revealed his silly charms while explaining, "I would like to present my different self on stage at least" and revealed his determination by adding, "I dreamt of becoming an artist because I don't think I'll be happy if I don't dance and sing". 
LEE IN HONG performed Austin Mahone's 'Shadow' on an acoustic guitar instrumental, presenting his beautiful voice. 
YG Treasure C#3 JUNG JUN HYUK
After introducing himself as "14-year old rapper JUNG JUN HYUK", he chose Eminem as the reason why he started rapping. He stated, "I heard Eminem on the radio and thought, 'rap is amazing'. I would like to become a world-famous artist", while revealing his dimple smile. 
JUNG JUN HYUK surprised the viewers with his nonstop rap during the 80-second performance clip. He performed Logic's '44more' and a verse written by himself, expressing his wavy flow and vocal tone with a strong identity. 
YG Treasure C#4 SO JUNG HWAN
After introducing himself with a shy smile, SO JUNG HWAN stated, "I'm usually bright and cheerful". He revealed his past of shooting an ad for peaches from Yeongdong and displayed a tasty peach-mukbang. He continued, "I would like to become an artist formed with hard work and dedication". 
SO JUNG HWAN performed Ed Sheeran's 'Supermarket Flowers' in his own unique style, revealing his sentimental eyes.
YG Treasure C#5 YUN SI YUN
14-year old YUN SI YUN stated, "I'm confident on my dance" and "I would like to become a memorable idol by presenting my strong choreography". He continued, "I filmed a movie titled 'Kundo' when I was young and wanted to be like director Jung Duhong". He added, "I want to be an all-around entertainer who's good at martial arts, dancing, and singing". 
YUN SI YUN revealed his charisma by presenting his powerful dance for Shawn Mendes' 'There's Nothing Holdin' Me Back'. 
YG Treasure C#6 KIM JONG SEOB
After appearing while showing off his unique swag, KIM SONG SEOB stated, "Since it's my second survival program after 'K-Pop Star', I would like to have fun and hope the viewers would have fun watching me". He continued, "I would like to aim for debut and perform on a big stage". 
KIM JONG SEOB showed off his rap and vocal skills on Wiz Khalifa's 'See You Again'. He also followed up with his dance on Christopher's 'Bad', presenting a high-level of completion in various fields.
YG Treasure C#7 KIM YEON GYU
After introducing himself with a cute and soft smile, KIM YEON GYU stated, "I usually wear round-shaped glasses and would like to become an artist who gives out love with my lovely appearance" and revealed his unique killer smile while adding, "People tell me I look like Harry Potter". 
On the continuing performance clip, he performed Primary's 'See Through' featuring Gaeko and Zion. T with his witty charms. 
'YG Treasure Box' is a survival program to select members for YG's new boy group being presented in 5 years, following BIGBANG, WINNER, and iKON. A fierce competition is expected as representative YANG has stated, "We are planning on selecting 5 members out of 29 trainees". Unlike pre-existing debut survival programs, YG is planning to present the progress of the group's creation in detail by revealing YG's actual music producing know-hows and internal system accumulated for the past 22 years. 
'YG Treasure Box' will be composed of 10 episodes. The program will pre-release on the 16th at 10 PM through VLIVE (V App) and premiere on the same night at 12 AM through JTBC2 and YouTube. 
2018. 11. 7.