'YG Treasure Box', From WANG JYUNHAO to YOON JAEHYUK… Reveals 8 Handsome Boys of Group B

[OSEN=선미경 기자] he 8 trainees of group B participating in 'YG Treasure Box' have thrown their hats into the ring. 
Today (6th) at 11 AM, YG Entertainment revealed the 8 trainees of group B from all 29 trainees participating in 'YG Treasure Box' through their official blog (www.yg-life.com), VLIVE, and YouTube. 
The trainees of group B were composed of members with a relatively short trainee experience term compared to group A.
Starting with WANG JYUNHAO, the 8 trainees including KANG SEOKHWA, HA YOONBIN, PARK JIHOON, JANG YUNSEO, YOON JAEHYUK, KIL DOHWAN, and KIM SUNGYEON introduced themselves while revealing their charms through performance clips. As YG has previously stated that the agency will take appearances into account, their fresh charms and handsome visuals stood out. 
YG Entertainment is planning to reveal all 29 trainees for 4 days until the 8th (Thu), following the uploads yesterday and today. 
The fierce survival competition will start on the 16th with the premiere of 'YG Treasure Box'.
YG Treasure B#1 WANG JYUNHAO
WANG JYUNHOW from Taipei stated, "I came to Korea 3 months ago, and I'm still learning Korean", while revealing his shy smile. He added, "I took the audition because I like GD. I would like to make debut so that my parents would approve me". 
YG Treasure B#2 KANG SEOKHWA
KANG SEOKHWA who stated that he lived with his "grandfather and grandmother" performed a tune of a trot song, after explaining that he sang a lot of trot songs. He expressed his will to make debut by stating, "I would like to become a singer who can touch people with my voice". 
YG Treasure B#3 HA YOONBIN
HA YOONBIN stated, "I started rapping because I was into Hip-Hop from a long time ago" and chose his hat as his fashion point. After revealing his charming point by explaining, "I have unexpected charms", he also added, "I dream of becoming an artist like iKON and WINNER".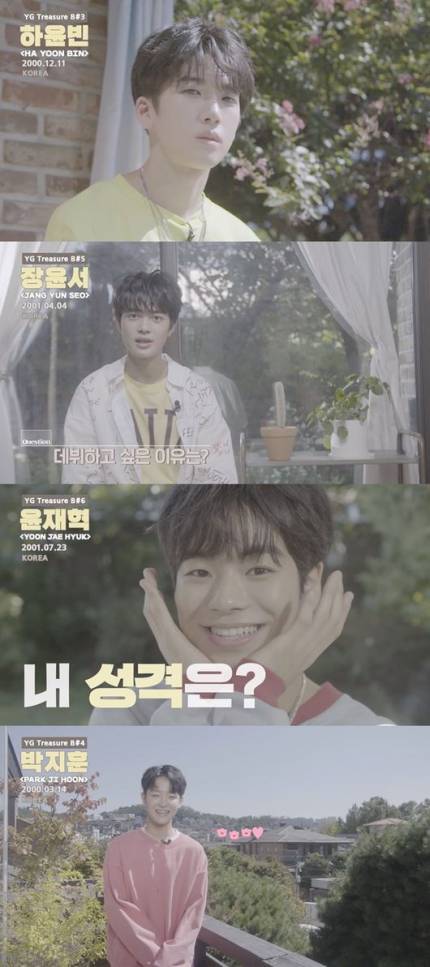 YG Treasure B#4 PARK JIHOON
After introducing himself with a smile and "Nice to meet you", PARK JIHOON expressed his will to make debut in YG by stating, "My clear goal is to become an artist, and it's what I want to do and what I do best among all ways of helping out my parents". 
YG Treasure B#5 JANG YUNSEO
JANG YUNSEO stated, "I have big eyes and people tell me I look like Shinee's Minho, which I appreciate". He continued, "I hope a lot of people listen to my songs" and appealed himself with an aegyo parade including various mimicries. 
YG Treasure B#6 YOON JAEHYUK
After revealing that "It's been approximately 4 months since I joined YG", he added, "I've been casted from all 3 major agencies". YOON JAEHYUK also stated, "I would like to perform in front of a lot of people. I would like to present dances and songs prepared by myself". 
YG Treasure B#7 KIM SUNGYEON
KIM SUNGYEON stated, "YEDAM from my class introduced me to YG, and that's how I took the audition". After explaining that he's "friendly and competitive", he chose his "charming voice" as his charm point. 
YG Treasure B#8 KIL DOHWAN
After introducing himself with aegyo, KIL DOHWAN revealed that he is from a 'Korean traditional music family'. He stated, "My mother plays gayageum, my uncle plays the drums, and I play an instrument called haegeum". He also revealed his love for SEUNGRI by stating, "I like his vocal tone and variety senses". 
A fierce competition is expected on 'YG Treasure Box', the program that will select YG's new boy group in 4 years, following BIGBANG, WINNER, and iKON, as YANG HYUN SUK has noticed to select "approximately 5 members out of 29". The program will reveal YG's music producing know-hows and internal system accumulated for the past 22 years unlike existing debut survival programs, to broadcast the progress of the new group's creation.
'YG Treasure Box' will be composed of 10 episodes and will pre-release through VLIVE (V App) on the 16th at 10 PM and premiere through JTBC2 and YouTube on the same night at 12 AM.
2018. 11. 6.