[Q&A COMPREHENSIVE] "THE GREAT COMEBACK" … SEUNGRI Reveals #YG's FUTURE #YANG HYUN SUK #BIGBANG #Enlistment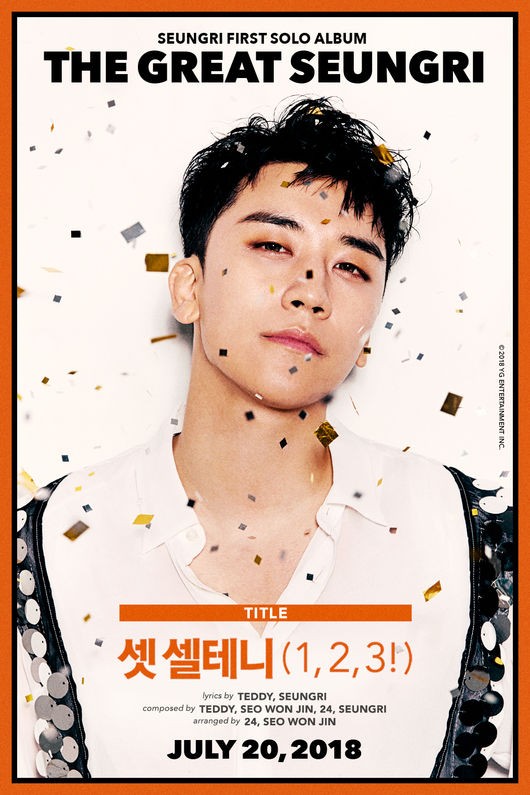 [OSEN=김은애 기자] "A Male Solo Artist Previously Unseen in K-Pop" 
From BIGBANG's cute youngest brother to 'STRONG BABY', from a successful businessman to a 'GREAT SOLO ARTIST'. 
On July 20, SEUNGRI held a press conference in Cheongdam CGV to celebrate the release his first official solo album 'THE GREAT SEUNGRI'. 
SEUNGRI will announce his first solo album 'THE GREAT SEUNGRI' today at 6 PM. It will be his solo activity in 5 years, since he last released 'Let's Talk About Love' back in August 2013. 
'THE GREAT SEUNGRI' will be filled up with 9 tracks including the title song '1, 2, 3!', sub-title song 'WHERE R U FROM', 'LOVE IS YOU', 'MOLLADO', 'SWEET LIE', 'BE FRIEND', 'HOTLINE', 'ALONE', and 'GOOD LUCK TO YOU'. 
SEUNGRI led the creation of his album as a main producer, while participating in the writing and composing of 8 tracks. 
The title song '1, 2, 3!' well displays SEUNGRI's identity with sensible lyrics filled with metaphors. The song was written and composed by TEDDY, while SEUNGRI also participated in the writing and composing of the song. 24 and Seo Wonjin were credited for composing and arranging the track. 
The sub-title song 'WHERE R U FROM' also grabs the viewers' attention. WINNER's MINO participated as a featuring artist. Furthermore, iKON's B.I participated in the song 'MOLLADO', creating a huge synergy effect. 
SEUNGRI completed creating an album worthy of 'THE GREAT SEUNGRI'. What kind of hard work did he have to go through. 
Here are the series of questions and answers with SEUNGRI. 
Q. It's your comeback in 5 years. 
I prefer working with a group. But the members are vacant. I'm the only one in society. I don't want our fans to feel lonely. The members wanted me to be active as well, before they enlisted. They told me to do my best as a member of BIGBANG, and as SEUNGRI. G-DRAGON especially. 
Prior to this comeback, I was ambitious. This time, while working with the best producing team from YG, I wanted to show my musical growth and maturity.   
Q. You worked with TEDDY. 
TEDDY worked with BIGBANG, G-DRAGON, and TAEYANG. But it's my first time working with him as a solo. TEDDY told me that he wants to create music that's 'possible because it's SEUNGRI'. He tried to make my music with my unique cheerfulness. As a result, '1, 2, 3!' was created with joyful energy. 
Q. You worked with G-DRAGON on your previous solo album. Do you feel his vacancy?
Many people misunderstand and think G-DRAGON always makes it pop. (Laughs) Of course, G-DRAGON creates most of BIGBANG's music, but the other members and I learned a lot as well. This album contains that know-how. He will soon get vacation, but I wasn't able to receive detailed comments on the album. 
Q. You have a nickname, the great Seungtsbi. 
I had a birthday party in an island once, and that's why people started calling me that. I like the movie, 'The Great Gatsby'. It also features one of my favorite actors, Leonardo DiCaprio. However, the movie has a sad ending. I didn't really get it from the movie, but thought of my nickname, 'The Great Seungtsbi' on making the title of the album.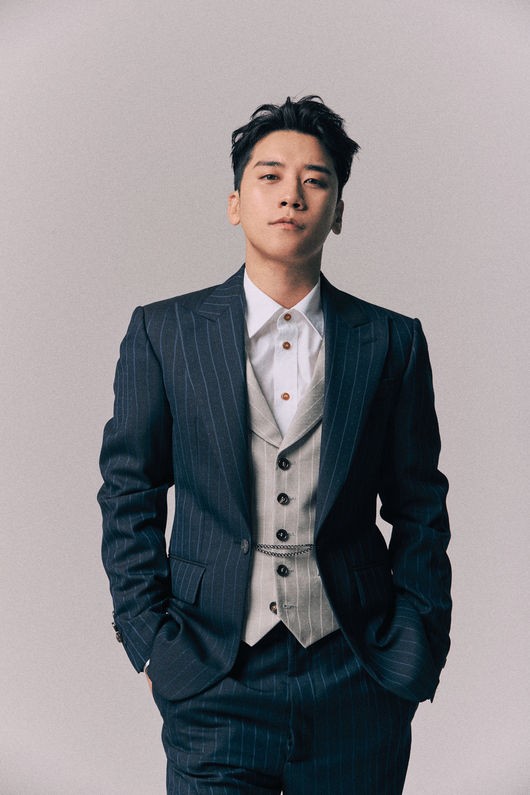 Q. You will be competing with your juniors. 
BTS, Wanna One, BLACKPINK, TWICE, and more, there are many popular groups. I don't want to compete, I just want to do well. I lack in numbers to compete with them. (Laughs) I will present SEUNGRI's unique style. 
Q. You're making comeback with an official album. 
YG doesn't release songs often. (Laughs) I like and follow YG's identity. However, I decided to release an album since I'm planning a 'solo tour'. I don't have many solo hits. That's why I put in more songs. 
Also, I wanted to show my sincere side, and my talents as an artist which I wasn't able to show during group activities. I would like to appeal to the fans with my 'solo tour'. 
Q. What's your source of confidence?
I was a member with reckless confidence in BIGBANG. I tried to get what the other members don't have. I feel that one should figure out on their own. What everyone likes and what they're talented in, one should figure out. I gained confidence as I found mine. 
Q. Your business is successful. 
I was always behind in BIGBANG in awareness, looks, dancing, singing, and even in variety shows. I felt like I was in trouble. My viability skills got activated, and I started doing business at a young age. It's difficult. Sometimes I got fooled and met bad people. In the end, I gained my own know-how, partners, and a business. That's why it worked so well. Also, through over 100 concerts including world tours, I learned about 'people'. I earned good connects. A leader's talents depend on how one looks and perceives people. In that perspective, I learned a lot from YG's YANG HYUN SUK. I am truly grateful.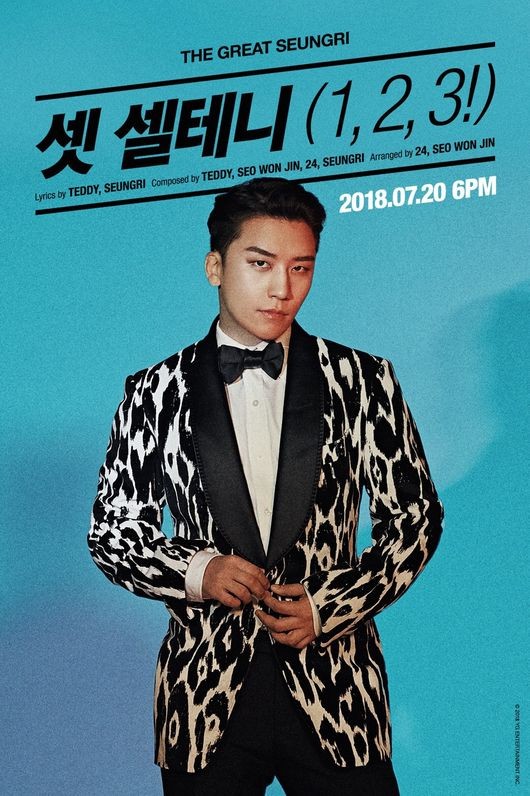 Q. YG is wholeheartedly supporting your comeback. 
My ranks went up. That's why their supporting me. (Laughs) Actually, I think I earned YANG HYUN SUKs trust while being engaged in various activities. I was in YG for a long time, and I'm a member of BIGBANG, the representative group of YG. That's why the agency supported me, and I felt that I should also repay with the best product. I feel proud and responsible. 
Q. What advice did president YANG HYUN SUK give you?
Me and president YANG have a lot in common. We both feel that. I am learning a lot from him. I heard that the number of times people searched SEUNGRI surpassed the number of times people searched BIGBANG this year, for the first time. YANG HYUN SUK told me, 'It's probably because people saw the sincere side of you this time'. I appeared in programs such as 'My Ugly Duckling' and 'I Live Alone' as guests. I will sincere with this comeback, as well. 
Q. G-DRAGON seemed to have hurt his ankle while serving in the army. 
While I was focusing on the album, we couldn't get in touch very often. The members weren't really into social life before. It probably wasn't easy for them to get accustomed to the new lifestyle. I believe the members will overcome. I hope they come back safe and sound. I also hope G-DRAGON's ankle injury gets better soon. I will also get prepared for my enlistment. 
Q. The MV is like a musical. 
I was inspired by John Travolta's 'Greece' and 'Saturday Night Fever'. This MV was directed by Han Samin, who also worked a lot with BIGBANG. We prepared very hard for the video. We took everything in one take. We spend time, worked on the teamwork with the dancers, and practiced. I'm happy with the results. I don't know if there were any male solo artists that sang and danced in this style of music. I can confidently say that I'm the first one in K-Pop.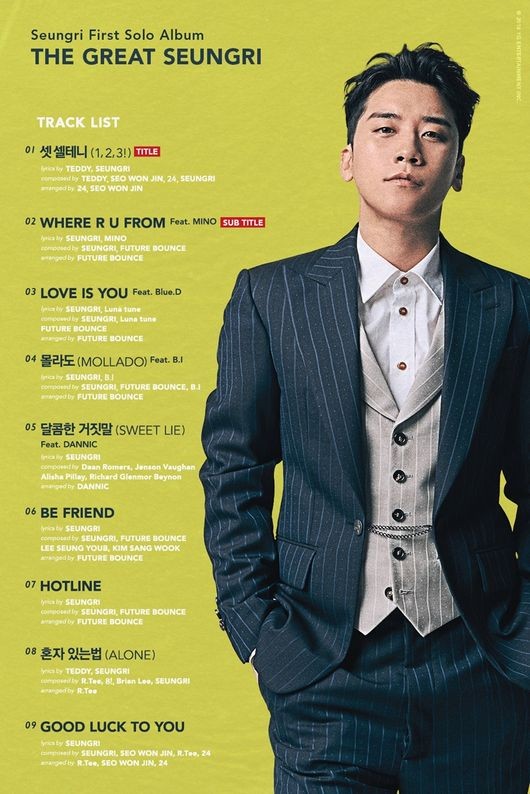 Q. Plans on enlisting?
I plan to enlist next year, early. The reason is because I want BIGBANG to get together at the same spot as fast as possible. For that, BIGBANG's vacancy shouldn't be too long. I hope the fans would wait for us, during the time. Please expect BIGBANG's new beginning. 
Q. What song do you like the most?
Every song is special. They are like my children. YANG HYUN SUK told me to release 5~6 songs. But I convinced him. I don't have genius producing skills. I worked very hard on this album. I put every song I worked on into this album. 
Q. You have a solo tour ahead.
Including the talk corners, I'm preparing for the concert which people have never experienced before. People regardless of age and gender will burst into laughter during the concert. There will be interesting episodes. The harmony between talk and performances will blow the heat away. 
Q. What do you think about YG's future?
That is a very sensitive question. (Laughs) YG is loyal. I never wanted to leave YG. It's like home. You get cold and hungry when you leave home. I really love my company. YG is doing business in various fields including sports and cosmetics. This is the Korean wave. YG is combining various concepts to promote the Korean wave. I really like the globalization. WINNER, iKON, and BLACKPINK are amazing groups, but the agency is already preparing groups that will follow up. It's amazing. I, as SEUNGRI who runs a business and works as a member of BIGBANG, confidently state that YG's future is bright.
Q. You are the representative of YGX. 
President YANG HYUN SUK is taking good care of me. At the same time, I am working with a trendier view, actively searching for new talents. There could be artists that are greater than YG. YG's future is bright.
Q. Anda made appearance in the MV. 
YGX recruited Anda. I felt that Anda's potential will explode if she meets a good professional team to support her. So, I scouted her and made her appear in the MV. Please look forward to Anda's future activities.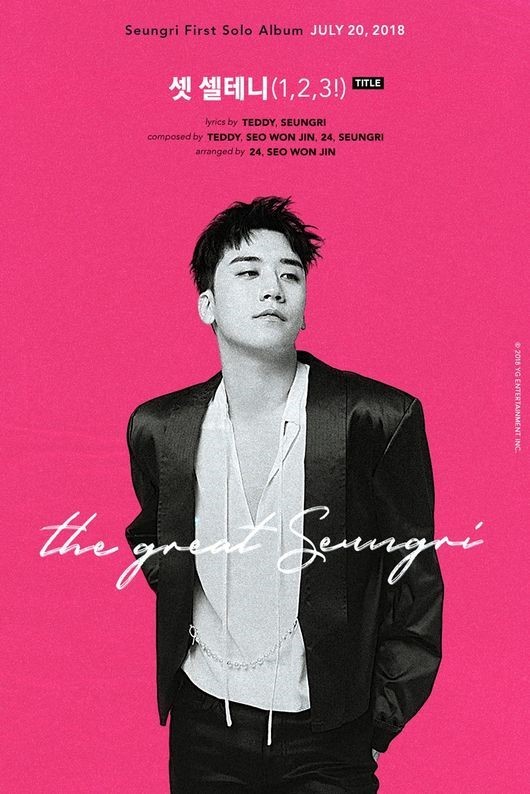 Q. When was SEUNGRI's prime? 
I'm the only member of BIGBANG that came from the countryside. I can't imagine what I'd be doing if I wasn't a member of BIGBANG. I'm not greedy anymore. I want to take things step by step. I am having my solo comeback while representing BIGBANG this time. I would like to make this my prime time. 
Q. WINNER's MINO and iKON's B.I participated as featuring artists. 
It wasn't common for idols to create their own music, before BIGBANG came out. G-DRAGON created a lot of issues while working as a singer-songwriter. Many groups started doing the same thing. 
Junior groups from YG can also produce their own songs. That's why members of WINNER or iKON are always present at the studio. I found MINO and B.I next door while working on the album, and naturally asked them for features. 
Q. What's SEUNGRI's final dream?
I've received a lot of love at a young age. For the next 10 years, I will repay what I have received. I hope members of BIGBANG would come back and reunite. I wish to be a good father as well. Not that I have plans to get married or someone that I'm seeing. I see romance rumors leaking but they're not true. I wonder who will be the second to get married after TAEYANG.
Q. Last words?
I received generous love as a part of BIGBANG. This time, I would like to appeal that 'That's why he was part of BIGBANG' and 'He's the reason why BIGBANG shined', rather than portray myself as simply the youngest member of BIGBANG. I believe it is a great opportunity, and I will make It happen. I am confident. I have worked with the best teams and did my best. Lastly, I would like to thank the fans that have supported BIGBANG. Please look forward to my comeback, since it's my solo album in 5 years. I'll even take rumors, What I don't like, is indifference. (Laughs)
2018. 7. 20.