"Starry Night" BLACKPINK "Recent conversation with YANG HYUN SUK? Let's eat together"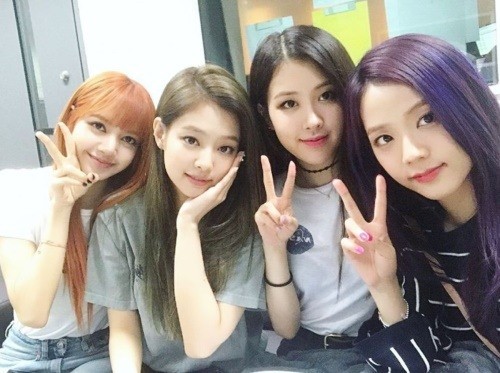 [헤럴드POP=김은정 기자] The jewels in the widely-open YG jewel box are shining more brilliantly than ever.
BLACKPINK's JISOO, JENNIE, ROSÉ, and LISA who have recently come back to the music scene with new song "As If It's Your Last" appeared in MBC FM's radio show "Kang Ta's Starry Night" aired on June 28.
That was BLACKPINK members' second appearance in a radio show. They were still feeling nervous but enjoying the show at the same time. Unlike other idol groups, there is no leader for BLACKPINK. JISOO explained, "Each part is led by the one who is the best at it". They cutely introduced each member's position in the team, saying, LISA is in charge of rap and dance, ROSÉ in charge of main vocal, JENNIE, cutie, and JISOO, eating.
JENNIE went on to introduce BLACKPINK's new song "As If It's Your Last" released on the 22 this month. She explained, "We've presented intense and powerful performances so far, but our new song 'As If It's Your Last' is a song of cute point dance and girly appeals that go well with the summer season.
Even though BLACKPINK stood under big spotlight every time they released a new song, the members said, "We're still not realizing our popularity". They went on to say, "I think I would actually feel our popularity if the workers at supermarkets recognize me. Still, people seem to just think when they see us 'Oh, I saw those girls on TV'."
The members also said their lives have not changed much from before their debut. They confessed, "We haven't gone out personally after our debut". They said that they cannot go out without their manager, but there is no restriction on what they can do in the house. They added, "There's no rule in our home. ROSÉ and LISA love to watch TV dramas and JISOO and JENNIE enjoy games and animation movies. We also play card games and take care of two dogs".
JISOO talked about an episode related with YANG HYUN SUK, the CEO of their label YG Entertainment. JISOO said, "Mr. YANG said 'Let's eat together'. He has actually bought us meals several times. One day, we came across Mr. YANG twice a day. We're going to the same places over and over again. He said 'Let's go and eat together.' I still remember the day".  
The listeners of the show expressed their affection for BLACKPINK by sending diverse messages which included "I'm listening to the show at Mt. Baekdu", "I have finals next week, but my time now with BLACKPINK is more precious to me", etc.
2017. 6. 29.