AKMU releases a musical short film for new album "WINTER" on January 1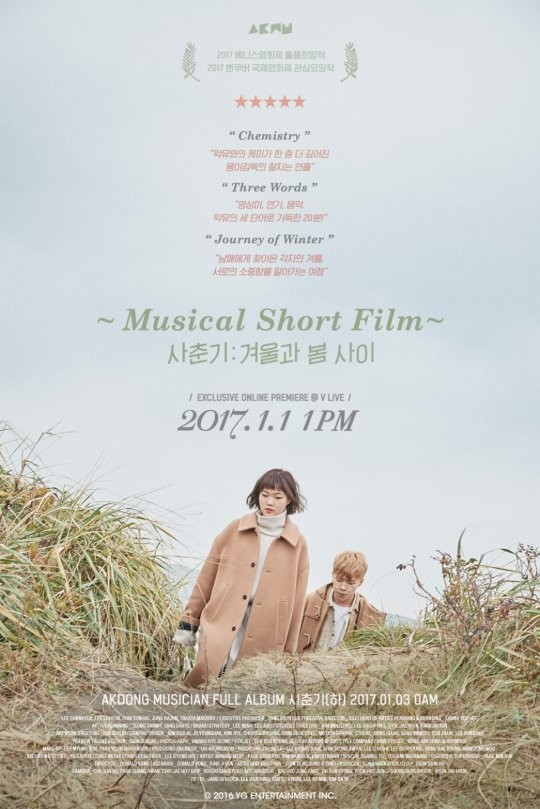 [동아닷컴=홍세영 기자] AKMU is unveiling a musical short film on January 1, 2017, before the release their new album "WINTER".
On December 22 at 10AM, YG Entertainment ("YG") uploaded a poster that announces the release of AKMU's musical short film "SRRING of WINTER", on the company's official blog.
The 20-minute-long musical short film will give an opportunity to taste every song in AKMU's new album "WINTER".
"SPRING of WINTER" is created based on a feeling of being between winter and spring. In the musical short film, AKMU will present an eye-catching chemistry between the brother and sister for the first time.
The film was shot all in Hokkaido, Japan, for a week. Director Li Yong directed it. Li Yong had also directed the music videos of "200%" and "GIVE LOVE", the title tracks of AKMU's first album "PLAY".
Phrases that explain the film, which are written on the poster, also draw keen attention. Expressions such as "Chemistry – Impressive directing by director Li Yong whose chemistry with AKMU has been further reinforced", "Three Words – Beautiful Imagery, Acting, and Music. 20 minutes filled with AKMU's three words!", and "Journey of Winter – The winter that came to the brother and sister, a journey of realizing the preciousness of each other", are raising fans' curiosity for the musical short film and the new album of AKMU.
AKMU talked about an interest in the world, excitement for dream and love, and worries about themselves in the previous album "SPRING". Music fans are now paying keen attention to what feelings and emotions AKMU will sing in their new album.
AKMU's musical short film "SPRING of WINTER" will be exclusively released on NAVER's V-LIVE on January 1 in 2017 at 1PM. Then, new album "WINTER" will be released on January 3, 2017.
2016. 12. 22.