"'To Go Beyond 'LOVE SCENARIO"..iKON Aims For Their Song To Play On the Streets
[OSEN=이승훈 기자] Group iKON (JAY, SONG, JU-NE, DK, CHAN) notified of an 'explosive activity' with their new album.
iKON held a press conference commemorating their 4th mini-album 'FLASHBACK' on the 3rd at the auditorium located at YG's new building in Seoul Mapogu Hapjeongdong.
As their comeback as a group comes in about a year and 2 months, the members stressed how they made a 'new attempt' and saw 'internal growth' within themselves. Their 'new attempt' referred to the new musical genre they're challenging themselves in, and the 'internal growth' refers to how members have actively participated in the album, and how they portrayed iKON's past and future.
In fact, their title-song 'FLASHBACK' refers to the film technology which shows series of momentary changes in scenes, and is mostly used to portray scenes from the past, signaling iKON's ever-changing charms. They used this album to metaphorically describe iKON as a life movie through various genres of songs such as synthwave, pop, hip-hop, and ballad.
JAY from iKON said regarding 'FLASHBACK' that 'It's a term used in films or dramas when looking back on the past, or when expressing the intensity of something. It's an album that portrays iKON looking back on the past, as well as living their today, and looking forward to the future".
DK then added "It's a genre we've never tried before. Everything from the M/V, recording, and choreography was put together in a new way since it's a new type of song. We're still very nervous as well. I don't know what the public will think about it, but we've put a lot of effort into this, and hopefully the public will like it too. Please see it as our new challenge", explaining the meaning behind 'BUT YOU'.
Their title-song 'BUT YOU' is a song that reinterpreted pop music from the 80s with a modern sound, and has impressive lyrics that shows the emotions of not being able to get over an individual's ex-partner. Then what was the reason for their new challenge?
BOBBY said "There's no fancy reason. We always want to find new ways and try new things, so we chose 'BUT YOU' thinking it will be better to show the different colors we have, rather than choosing a safe option". JAY also added "We did consider doing something hip-hop, which we often did, but we wanted to show a different iKON to the public since it's been a while since we released a new song".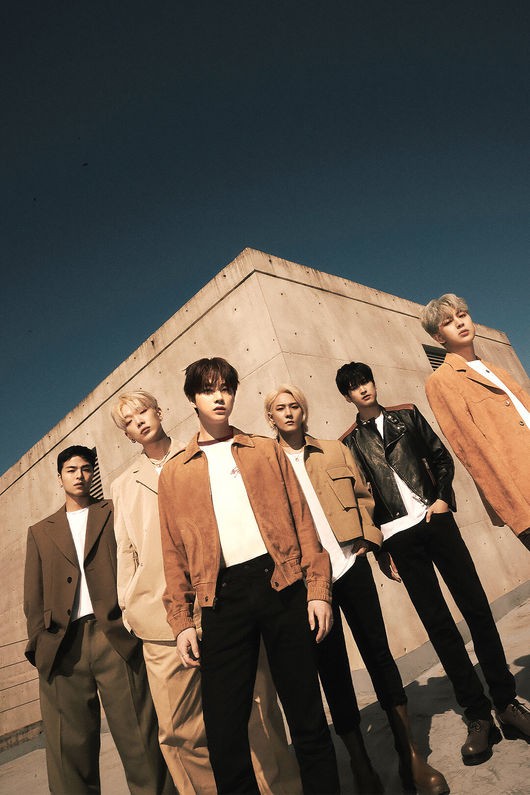 Not only did members welcomed the song when they first heard 'BUT YOU', but even the staff supported the song. CHAN said "When we first heard 'BUT YOU', even though it was a genre we've never done before, all our members and YG staff showed great reactions to it. It didn't take long for us to decide it as our title-song".
iKON plans on conducting various promotion activities after releasing 'FLASHBACK' including music and entertainment shows. JAY said "Starting with our entertainment show, we also have a concert prepared, and we'll be doing a tour in Japan as well. We really hope we can let all our energy out for this album since we've really been holding it in. We're working really hard, so please show lots of support", hinting on their future activities.
"Since our new album 'FLAHBACK' is a new attempt for us too, we really hope the public likes the song. But more than anything, iKONICs have waited for us for a long time. I think it would be our biggest accomplishment if they listen to the song and think 'iKON can pull off different genres', 'They can do all kind of genres'". (CHAN)
"I think I'm happy that we have more songs to sing at the concert. Scores are important but we want to hold a concert, and I think we can really show the different colors we have through the song. I think it would be our biggest accomplishment if we successfully pull off the performance and do a show we can be satisfied with". (BOBBY)
"Rather than saying we want to take home a trophy from music shows, I really want 'BUT YOU' to be playing in the streets or at restaurants. We liked it so much when 'LOVE SCENARIO' was playing everywhere, so I hope it becomes even more of a hit that can't be compared to 'LOVE SCENARIO'" (JAY)
"If many people love our song and say 'iKON is really good with their music', I think that would be our ultimate goal and best accomplishment. (DK)
Meanwhile, iKON will be releasing their 4th mini-album 'FLASHBACK' at 6PM on the 3rd through various music sites.
2022. 5. 3.