[TEN CONCERT] "SEUNGRI Is Our Everything" … Seungtsby's Charm Needs More Than 2 Hours
[텐아시아=김하진 기자] "I worked alone hard this year. I had responsibilities as a member of BIGBANG. Many people felt positive towards this, and I appreciate it". 
Group BIGBANG's SEUNGRI successfully finished his first solo concert 'SEUNGRI 2019 1st SOLO TOUR in SEOU' on August 5 at 6 PM in Jangchung Gymnasium, Seoul. He gathered 8,800 audiences for the last 2 days from August 4, noticing the start of his solo tour. 
The standing seats on the first floor and seats on the 2nd floor were both filled with audiences. The fans yelled SEUNGRI's name out loud even before the concert began, and SEUNGRI connected with the fans while freely running through the stage. He performed a total of 23 songs including his recently released solo songs and songs of BIGBANG reinterpreted by SEUNGRI as a solo version. Between songs, SEUNGRI also displayed various performances that revealed his unique charms. 
SEUNGRI performed songs including 'STRONG BABY', 'LET'S TALK ABOUT LOVE', 'GG BE', and 'GOTTA TALK TO YOU' when he first appeared on stage. He stated, "I was frightened since it was my first solo concert, so thank you for filling up the seats". He continued, "I will finish this concert successfully as I am the only member of BIGBANG remaining in society". He reminisced while he mentioned the 4 members currently enlisted in the army.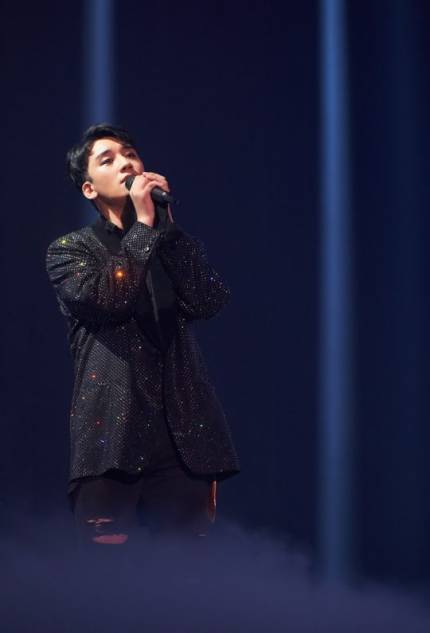 SEUNGRI stated, "I feel like my brothers were amazing as I'm doing this concert by myself. It's not easy singing alone". He continued, "But actually, I feel like I can sing more. I'm planning to add more solo tracks in my concerts in Daegu and Busan". 
He sang 'IF YOU" after explaining, "I miss my brothers". The screen showed BIGBANG's past videos, and SEUNGRI continued to perform the song while watching the screen. The fans also reminisced, and some of the audiences shed tears.
The last was like 'SEUNGRI'. He changed the lyrics to "I'll go soon as well" and displayed a video of himself wearing a military uniform. Although the video was clever, the fans felt sorry. He performed 'HARU HARU' and 'LAST GOODBYE' afterwards for the fans. The audience held the plan card that read, 'SEUNGRI is our Everysing', showing support for SEUNGRI. 
SEUNGRI attracted the fans with not only his vocals, but also his dance moves. From House Shuffle to Sports Dance, SEUNGRI performed various genres of dances. He also added acts and choreography which reminded viewers of a musical, providing a joyful experience for the audience. He also had a 'DJ Time'. He remixed songs released by YG Entertainment including songs by WINNER, iKON, and BLACKPINK, exciting the crowd as if the concert scene was a club. 
SEUNGRI did not perform a single song with duplicating moods, He raised the mood with his glamorous choreography, and attracted the audience utilizing his standing mic. He also displayed a different side of himself while collaborating with a female choreographer and displayed various colors of himself. The 2 hours were not enough to completely illustrate SEUNGRI's charms. 
As he concentrated more on singing and dancing rather than talking, he also revealed his potential as a solo artist. He bragged about the lights and sound system prepared by a credit card company which sponsored SEUNGRI's concert. The phrase, "Which credit card do you use?", which may feel a bit promotional became a humor when the phrase was passed on through SEUNGRI's mouth. 
SEUNGRI also talked to the audience while trying to pay attention as much as he can. Although he was alone, he also mentioned other members of BIGBANG frequently. His words that said, "I want to work hard as possible to reduce BIGBANG's vacancy" did not come out of nowhere. He did not forget to express his gratitude towards the fans that showed steady love and support since the group made debut in 2006. 
SEUNGRI hoped the event to be a "Joyous concert which the audience becomes reminiscent". Just as he wished, the concert had lots to watch and experience.
SEUNGRI will continue his concert on Daegu EXCO and Busan BEXCO on August 15 and 19, respectively.