YG TREASURE Opens Sampler for 1st Mini-album…Expectations Run High for 'JIKJIN' and Track Songs
[OSEN=이승훈 기자] With only two days left until TREASURE's comeback, global fans are shouting out of joy as samplers of their new songs got unveiled.
YG Entertainment on the 13th unveiled 12 clips of samplers that show parts of the new songs listed on their first mini-album 'THE SECOND STEP : CHAPTER ONE'. Out of the 6 songs listed on the album, samplers of 4 of the songs were unveiled, each showing members' part. The clips not only showed how much growth TREASURE went through, but the different charms members will show through this album.
In particular, the impact of the title-song 'JIKJIN' was strong. The continuously changing tracks and vocal parts lifted up the atmosphere, and the minimal yet addictive chorus gifted a thrilling twist. YG said "It's a song that has strong impact with speedy developments. Their even more bold lyrics and members' voice will take over listeners' ears".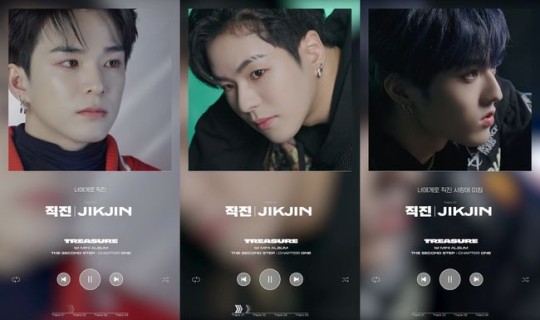 'U' is a sophisticated easy listening pop genre, and is a MZ generation type serenade sung by TREASURE. The characteristics are beautiful piano sounds and soft singing voice with a smooth palseto singing method. The song title 'U' which resembles a smile makes listeners' heart pound just by listening to it.
'DARARI' hinted on the birth of TREASURE's own R&B song. Based on trap rhythm, the combination of bossanova-style guitar, exotic percussion, and refreshing marimba creates a charming yet unique sound.
'IT'S OKAY' is a ballad song full of hope completed with TREASURE's positive energy. TREASURE plans on comforting the hearts of tired modern people with lyrics such as 'I'll be your light even when the undesired darkness comes at night', 'You can soar anywhere without wings'.
Meanwhile, the M/V teaser for TREASURE's title-song 'JIKJIN' which was unveiled before the sampler reached 2 million views on YouTube in just a day, garnering explosive responses. Even though the clip was 26 seconds, elements of the M/V including members' visuals, instruments, and set raised expectation of fans with high completeness.
TREASURE's first mini-album 'THE SECOND STEP : CHAPTER ONE' will be unveiled at 6 p.m. on the 15th. A total of 6 songs has been listed on the physical album including 'BFF (Best Friend Forever)', 'Gonna Be Fine' which was the soundtrack for their web-drama 'The Mysterious Class'. The members will meet fans first via YouTube's 'Countdown Live' which will be conduct live two hours prior to the release. They will also hold their first concert since debut on the 9th and 10th of April at Seoul Olympic Hall.
2022. 2. 13.