TREASURE Unveils Teaser of 'The Mysterious Class'…Spooky Atmosphere Draws Attention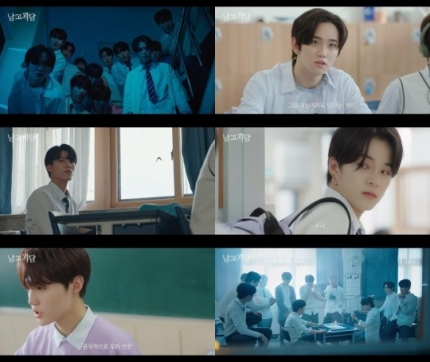 [헤럴드POP=천윤혜 기자] The teaser video for YG mega group TREASURE's new web-drama 'The Mysterious Class' got unveiled at 10 p.m. on the 5th.
The video first started off with CHOI HYUN SUK and BANG YE DAM making the spell of 'Bunshinsaba'. As they said "If you are here, please tell us", the pen they were holding turned straight to O out of O,X, and a huge thunder storm stroke.
The spooky message of 'A mysterious someone is in the class', 'Strange things keep happening", created a chilly atmosphere along with scenes that showed how unfortunate events kept happening in the school.
In particular, scenes that showed a bird dying after getting hit on the window, fingers shown behind students' shoulders, an unknown teddy bear, blood spattered on the music score, a shaman performing an exorcism to get rid of the ghost, and the teacher who passed out on the floor created even more tension.
Even though it was a 60 second short teaser video, it made viewers completely fall into the scene with its spooky and chilly story line.
DOYOUNG said "We officially have 20 students in our class" and YOON JAE HYUK asked "Then why do we have 21 students?". The scene garnered even more curiosity as he replied "A mysterious someone is among us…someone that only us and the teacher can see".
Meanwhile the web-drama 'The Mysterious Class' will first be aired on the 12th of November. It draws on 12 TREASURE members being suspicious of one another while trying to look for the ghost. A total of 8 episodes will be aired at 10 p.m. every Friday on TREASURE's official YouTube channel.
2021. 11. 6.