"Coming Soon" TREASURE Hold First Fan-meeting Portraying their Past·Present·Future…Even Hints on Comeback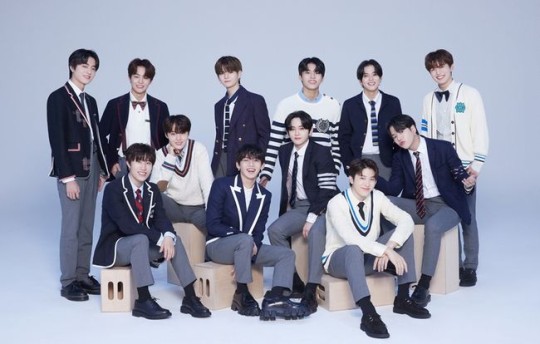 [OSEN=지민경 기자] Group TREASURE successfully wrapped up their first fan-meeting and proved their love towards fans.
TREASURE held the '1ST PRIVATE STAGE [TEU-DAY] on the 2nd at Olympic Hall located in Bangi-dong Seoul and met with fans for the first time since debut.
'PRIVATE STAGE' is YG's fan meeting brand that puruse high-quality performances based on interactions between fans and artists. The title for this 'PRIVATE STAGE' [TEU-DAY] was coined by adding 'TODAY' and TREASURE's fan club name 'TEU' from 'TEUME'. The title was a representation of the first moment TREASURE and TREASURE MAKERS met.
TREASURE made their debut in August last year and released series of albums 'THE FIRST STPE'. The group showed numerous activities after selling a total of 1 million copies. They shared a touching moment meeting with fans for the first time through their first 'PRIVATE STAGE' which was conducted both online and offline.
TREASURE opened up the stage with 'Going Crazy' and said "I'm already touched a lot. I'm so happy to be meeting TEUMEs for the first time. Today is the day I've been waiting for" after seeing fans who filled up the whole venue. They then added "The day we can finally stand on our very own stage has come. We've waited for this for so long. Dream has become reality and I feel like my heart is going to explode. It feels so happy to be able to look into the audiences from the stage. We were so excited while preparing for this stage and we'll make sure today remains as a memorable day."
'PRIVATE STAGE' started off with a welcome ceremony and TREASURE MAKER membership vow, and was conducted with two different concepts, 'School' and 'RENDEZ-VOUS'. The spectacular stages which almost seemed like a concert went on for two hours with different segments where fans could join too.
As fans weren't able to scream, chant, and sing along due to COVID-19 measures, TREASURE taught them a new way of cheering on using their feet and claps. Fans stomped their feet and clapped along 'I LOVE YOU' and 'MY TREASURE' instead of loud cheering.
During the 'SLOWMOTION' performance, a 'slow motion singing video' by fans sent in from all around the world got put on unexpectedly, surprising the members with a warm gift. Some members even got teary saying "We thought it was an accident. We're very thankful. We're even more happy now. It's a song that makes me fall deep in my emotions but seeing the video even made us even more emotional. We'll never let go of the hands you guys gave us", expressing how thankful they were.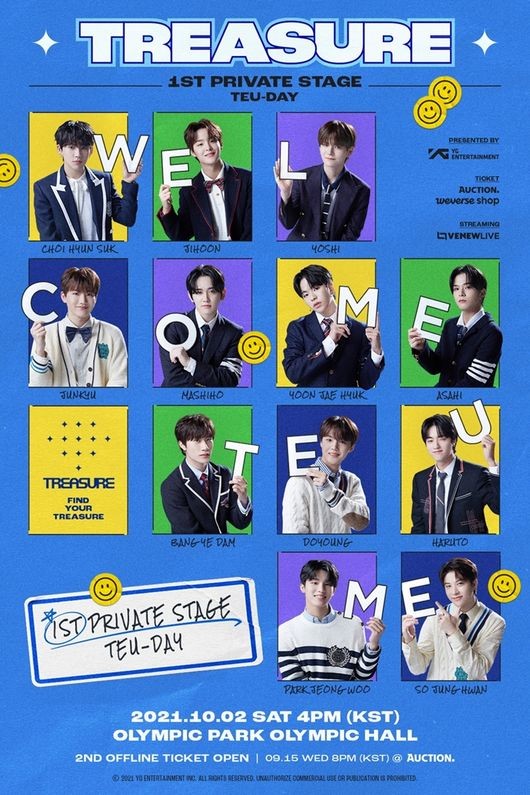 TREASURE also had a time where they looked back on their past, present and future. From the moment they had their debut on the 7th of August 2020, they looked back on their first music show, first award ceremony, and MAMA, also sharing behind stories. The members wrote a letter to each other for the future and made a promise with fans saying "As we now finally got to meet you guys, we will make sure to fill your days with happiness everyday".
TREASURE also performed 'BOY, and 'MMM' showing perfect live skills even with intense performances and dance moves.
Lastly members said to fans "we prepared really hard for this since it was our first-time meeting you guys. You all really cheered us on today and that gives us great strength. It was a moment we'd been waiting for such a long but it went so quickly. It's upsetting how we couldn't hear your voice properly but we hope to have a tour when we can all shout out to each other. We'll work hard until then too. We really hope the situation gets better so we can enjoy the moment with more fans. It would be great if you could look forward to our activities since we'll have more chances like these from now on."
In particular CHOI HYUN SUK said "We're planning on having a comeback before next year comes. We'll make sure to prepare for the best as quick as we can, so we would really appreciate your support", hinting on their next comeback.
2021. 10. 3.