Ticket Sales for BLACKPINK's First Ever Concert in Seoul Start Today (18th)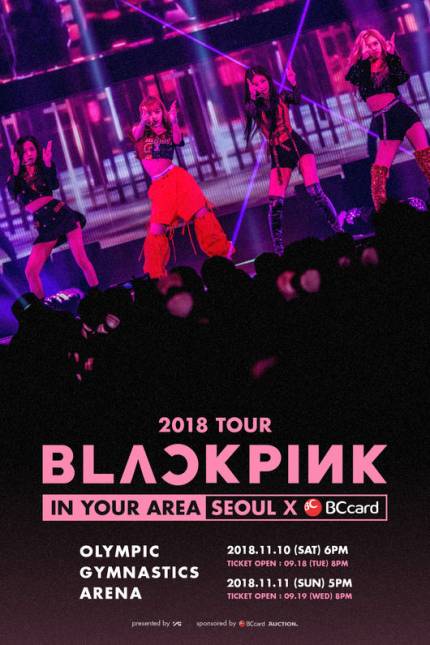 [OSEN=지민경 기자] The general ticket sales for BLACKPINK's first ever concert in Seoul starts today (18th). 
Prior to the ticket sales opening, YG Entertainment released the 2nd poster for BLACKPINK's concert in Seoul containing scenes of BLACKPINK performing 'DDU-DU DDU-DU' through their official social media at 10 AM. The first poster, spot video, message videos by members, and the 2nd poster are raising expectations on BLACKPINK's concert in Seoul. The ticket sales will start today at 8 PM, and a fierce ticketing war is expected. 
On November 10 (Sat) at 6 PM and on the 11th (Sun) at 5 PM, BLACKPINK will hold the 'BLACKPINK 2018 TOUR [IN YOUR AREA] SEOUL X BC CARD' in KSPO DOME (Olympic Gymnastics Arena) and have a special meeting with Korean fans. 
While setting the 'first, best, and most' records, BLACKPINK's 'first ever solo concert in Korea' will also have an immense scale. They will hold their first solo concert in KSPO DOME (Olympic Gymnastics Arena), which is the largest indoor concert venue in Korea.
The members of BLACKPINK are sincerely preparing for the concert, by sharing and putting out ideas themselves. The concert title 'IN YOUR AREA' was also one of the ideas suggested by members of BLACKPINK with passion. 
Since the group's Seoul concert will be the first official meeting between BLACKPINK and 'blink', which is BLACKPINK's official fan club, expectations by fans are currently at its peak. 
The tickets for BLAKCPINK's 'first solo concert in Seoul' will be available through Auction Ticket. The first sales will start today (18th) at 8 PM, while the second sales start tomorrow (19th) at 8 PM.

2018. 9. 18.