[OFFICIAL] BIGBANG SEUNGRI Will Hold His First-Ever Solo Concert in 12 Years Since Debut… Date Confirmed as August 4·5th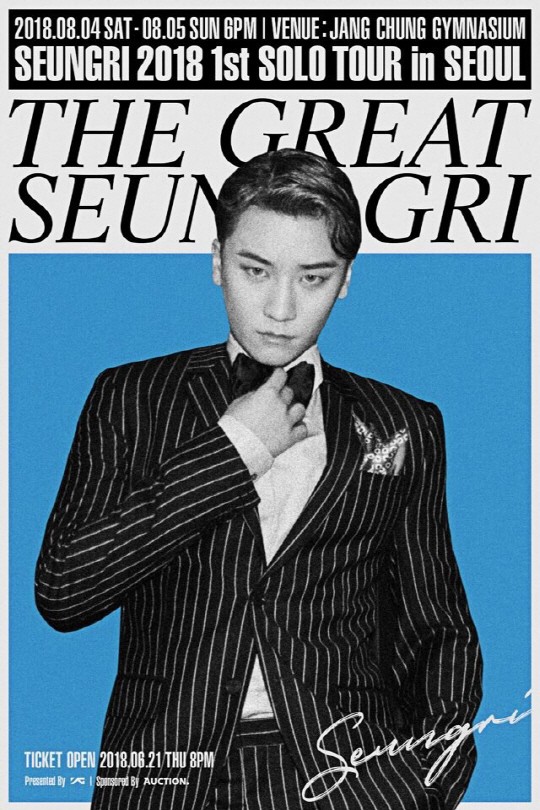 [스포츠조선=이유나 기자] BIGBANG's SEUNGRI will fill up the stage by himself for the first time in 12 years since debut, through his first-ever solo concert.
SEUNGRI's first-ever solo concert, 'SEUNGRI 2018 1st SOLO TOUR [THE GREAT SEUNGRI] IN SEOUL', will be held through August 4~5 at 6 PM in Jangchung Gymnasium.
Fans will be able to meet SEUNGRI as a 'solo artist' rather than BIGBANG's youngest member and businessman through the concert. As the concert will be SEUNGRI's first-ever solo concert, there will be various performances that will reveal SEUNGRI's personal charms.
Through music composed of live band performances and DJ performances, SEUNGRI will display unique and joyful performances which other artists have not previously displayed, with SEUNGRI's unique personality and talents. 
SEUNGRI is planning to fill up the stage with plentiful attractions so that the audience won't feel the vacancy of other BIGBANG members. The concert is expected to be an event where the audience can forget about the sweltering heat of the summer and enjoy altogether. Furthermore, SEUNGRI is also thoroughly preparing to meet not only fans from Korea and Japan, but also fans from around the globe.
The fan club pre-ticketing for SEUNGRI's first-ever solo concert starts today (5th) at 8 PM, while regular ticket sales will start on June 21 at 8 PM through Auction Ticket.
SEUNGRI, who noticed an active career prior to his enlistment, will make comeback in the K-Pop scene with his first full-length album on early July. The fans are paying keen attention and looking forward to SEUNGRI's upcoming release, since it will be his first full-length album since debut and will also be his solo artist activity in 5 years. 
2018. 6. 5.