'Comeback' iKON, "Going One Step Higher Every Time, Feel Grateful and Apologetic for the Fans"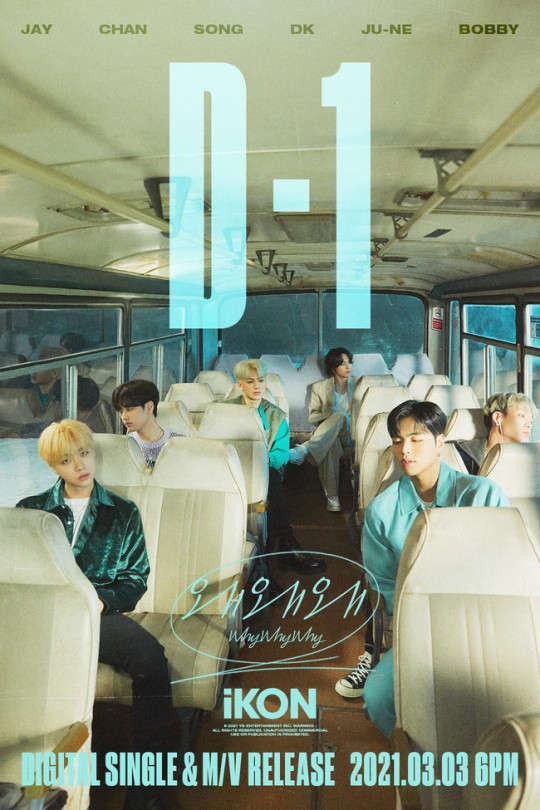 [뉴스엔=이민지 기자] iKON shared their sincere thoughts on their fans.
On March 2, YG Entertainment uploaded the D-1 poster and interview clip on iKON's digital single 'Why Why Why' through the agency's official blog.
In the interview clip with sincerity which presented the group's matured inner selves, DK began by stating, "The dream we dream of now is of course, different from what we've dreamt when iKON was first formed". He smiled while adding, "I imagined iKON when we were vivacious, mischievous, and felt like we will never grow up". CHAN explained, "We became more calm and we have a lot more thoughts".
Regarding iKON's past and present, JU-NE stated, "We had our energy we could've only expressed then(early debut), and think we have different energy we can only express now as our matured selves".
BOBBY stated, "We have a direction to present what we've been doing since our trainee days and what we're made of, rather than being a textbook example". JAY expressed his strong will by continuing, "We think it's one of the steps we climb as we go up step by step".
The members of iKON stated, "We look at our videos with iKONIC when we've spent time together with longing" and added, "We always feel grateful and apologetic for iKONIC".
The reminded themselves of their first concert, JU-NE and DK reminisced the time when their hearts were deeply moved by stating, "I can't forget iKONIC we saw as the doors opened in the Seoul Olympic Gymnastics Arena". They shared their sincere thoughts during those overwhelming moments by adding, "How did so many people spend their time to watch us perform while we just worked hard because we like music and we wanted to be on stage?",
BOBBY stated, "We appreciate the steady love and support from the fans" and revealed, "iKON exists thanks to iKONIC". JAY and SONG stated, "Our fans say, 'We'll wait, for no matter how long" and explained, "It hurts to listen. We're sorry to say, 'Sorry for keeping you waiting' so many times".
In the end, the members of iKON touched their fans' hearts by smiling brightly and stating, "Thank you for waiting. We'll work hard and show you the best of ourselves as much as you have waited. Now we'll wait for you. We'll make all you iKONIC happy".
iKON's digital single 'Why Why Why' will be released on March 3 at 6 PM. At 5 PM, an hour prior to the release of their digital single, iKON will meet their fans through the Naver V LIVE 'Countdown Live'. Making comeback in approximately a year, iKON is spending their busiest days while finalizing their single release preparation while practicing for Mnet's boy group program 'Kingdom', which is scheduled to premiere on April 1.
2021. 3. 2.